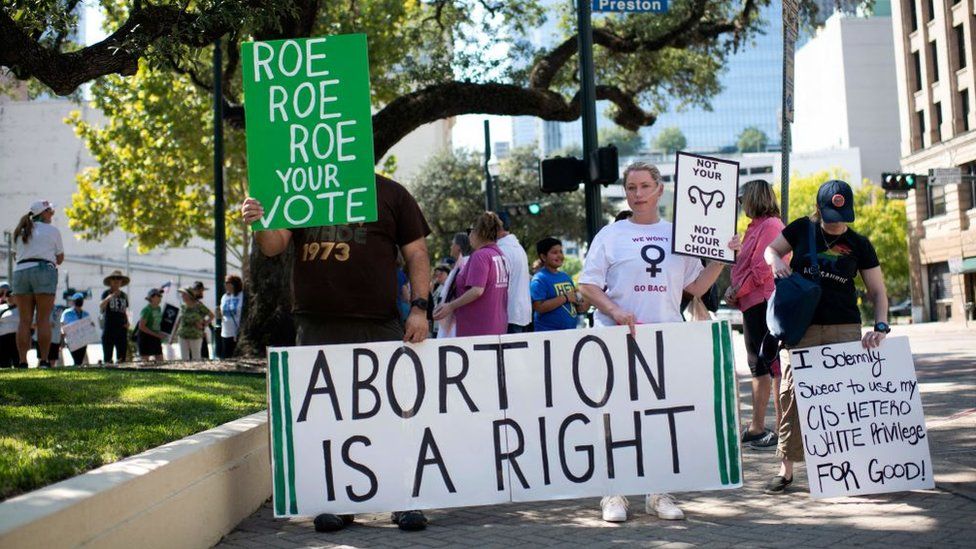 Five women who say they were denied abortions in Texas despite facing life-threatening health risks have sued the state over its abortion ban. Texas bars abortions except for medical emergencies, with doctors facing punishment of up to 99 years in jail.
According to the lawsuit, doctors are refusing the procedure even in extreme cases out of fear of prosecution.
In a statement, the office of Attorney General Ken Paxton said he would "enforce the laws" of the state. Mr Paxton "is committed to doing everything in his power to protect mothers, families, and unborn children", the statement said.
The Center for Reproductive Justice has filed the legal action on behalf of the five women – Ashley Brandt, Lauren Hall, Lauren Miller, Anna Zargarian and Amanda Zurawski – and two healthcare providers that are also plaintiffs.
The pro-choice group said it is the first time pregnant women themselves have taken action against anti-abortion laws passed across the US since the Supreme Court last year removed constitutional protection for abortion rights.
"It is now dangerous to be pregnant in Texas," said Nancy Northup, the centre's president on Tuesday. With Ms Northup outside the Texas Capitol in Austin on Tuesday, the plaintiffs – two pregnant – shared harrowing stories of their previous, lost pregnancies.
According to the legal action, all were told that their foetuses would not survive, but were not given the option of an abortion, which they described as "standard medical procedure" throughout the country and in the state before Texas' ban came into effect.
Ms Zurawski, 35, said she had become pregnant after 18 months of fertility treatments. She had just entered her second trimester when she was told she had dilated prematurely and that the loss of her foetus, whom she and her husband had named Willow, was "inevitable".
"But even though we would, with complete certainty, lose Willow, my doctor could not intervene while her heart was still beating or until I was sick enough for the ethics board at the hospital to consider my life at risk," Ms Zurawski said. For three days, trapped in a "bizarre and avoidable hell", Ms Zurawski was forced to wait until her body entered sepsis – also known as blood poisoning – and doctors were allowed to perform an abortion, according to the lawsuit.
Ms Zurawski spent three days in intensive care, leaving the hospital after a week, the legal action says. The ordeal has made it harder for her to conceive in future, she said. The four other women had to travel outside Texas for an abortion.
One of the plaintiffs, Ms Miller, said: "Healthcare should not be determined by some politician with no understanding of medicine or the critical role that abortion care plays in pregnancy. How is it that I can get an abortion for a dog but not for me?" Two of the women's foetuses had conditions that meant they did not develop a skull, according to the lawsuit.
These cases "are just tip of the iceberg", the Center for Reproductive Justice's Ms Northup said.
Their 91-page complaint asks for a ruling that clarifies Texas' law and its stance on "medical emergencies" for pregnant women facing grave health risks.
"With the threat of losing their medical licences, fines of hundreds of thousands of dollars, and up to 99 years in prison lingering over their heads, it is no wonder that doctors and hospitals are turning patients away – even patients in medical emergencies," the lawsuit reads.
According to a survey by the Pew Research Centre onducted last year, 61% of Americans say abortion should be legal in all or most circumstances, though the opinion poll found public support for the procedure fell as a pregnancy progressed.
Texas' legislature, which is under Republican control, has been at the forefront of anti-abortion legislation, becoming the first state to enact a near-total ban. And the state will be home to another abortion battle soon: a Texas judge is expected to rule on a case about abortion pills this week.
The Trump-appointed US District Court Judge Matthew Kacsmaryk will decide whether Mifepristone – one of the two drugs used in an abortion pill regime – can continue to be sold in the US.