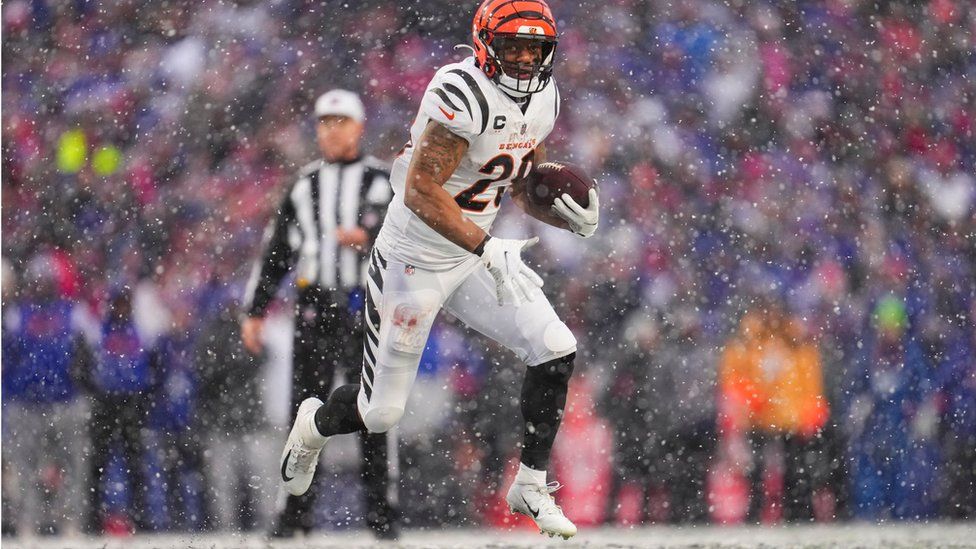 Police searched the home of a top Cincinnati Bengals player late on Monday night after a call reporting possible shots had been fired.
Officers were banging on the door of star Bengals running back Joe Mixon, 26, at around midnight, local media reported.
Crime scene tape appeared around Mr Mixon's home, and a child was taken to hospital with minor injuries.
It's unclear if Mr Mixon was involved. Police left without making arrests.
The extent of the child's injuries has not been disclosed.
Hamilton County Sheriff deputies first arrived at the scene at around 20:30 EST and applied crime scene tape across Mr Mixon's home at around 23:00, according to a Fox local news affiliate.
At least one evidence marker, an indicator of potential evidence for a crime, was placed in the player's yard. A news reporter on the scene said there were multiple such markers which he believed were bullet casings from the shots fired.
Local media also reported that deputies were seen "banging on Mixon's door, loudly", identifying themselves and telling Mr Mixon to come out. An officer carrying an envelope of documents arrived at the home at around 01:30 on Tuesday morning, just minutes before several deputies entered with flashlights.
Three more officers reportedly arrived around 02:00 with "note-taking supplies".
Mr Mixon's sister later told local news channel WLW-TV that he was not involved in the incident.
One of his neighbours told the network that the shooting unfolded as teenagers were playing with toy Nerf guns in the area.
"Seven rounds were shot because they were playing Nerf Wars and apparently went into one of the neighbour's yards back here, and that neighbour opened fire," said neighbour Tracy Schaeper.
The incident occurred just over a month after a warrant was issued for Mr Mixon's arrest on charges of aggravated menacing over allegations that he pointed a gun at a woman. Those charges were eventually dropped.
Mr Mixon has one year left on his contract with the Bengals. In 2021, he had a highlight season and was selected for the Pro Bowl after scoring 13 touchdowns.