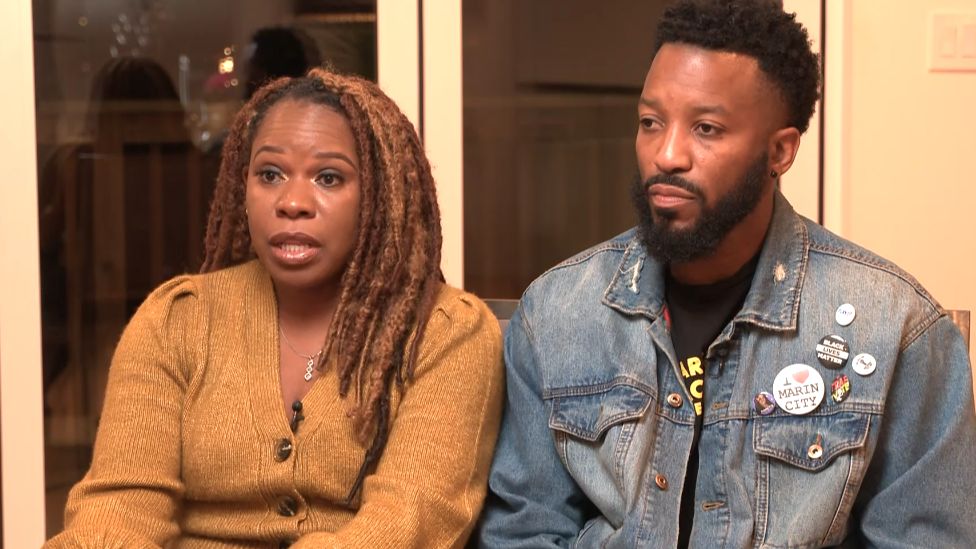 A US black couple has settled a lawsuit with a real estate appraiser whom they accused of giving their home a low valuation because of their race.
Tenisha Tate-Austin and Paul Austin's house was valued in 2020 at nearly $1m – much less than expected.
They asked for an appraisal with another firm – this time with a white friend posing as the California home's owner. It was valued at nearly $1.5m. According to official figures, 92.4% of home appraisers are white.
In 2021, the Federal Home Loan Mortgage Corporation released a study of 12 million appraisals over five years, showing that homes in black and Hispanic neighbourhoods were routinely undervalued.
Ms Tate-Austin and Mr Austin bought the house in 2016 in the San Francisco suburb of Marin City for about $550,000. The city has a large African-American population (38%), compared with the predominantly white Marin County, where it is situated, in which only 2.8% of the population is black.
In 2020, when interest rates were historically low, the couple decided to refinance their mortgage.
The year before, a company had appraised their four-bedroom property for $1,450,000, after they made major improvements, including adding square-footage. But when they decided to refinance again in 2020 to take advantage of low rates, they were appraised for just $995,000.
So they came up with an experiment. What if their friend, a white woman, posed as the homeowner instead?
They removed all trace of themselves from their home, including their African-themed artwork and their photographs. The process is known as "white-washing", and black homeowners across the country have reported doing it in order to sell their properties.
Several weeks after their first estimate, a different appraiser toured the house for the decoy white homeowner.
This time, it was appraised at $1,482,500 – almost half a million dollars more than the initial estimate, according to the lawsuit.
"You feel a sense of relief like, 'I told you.' Then you just feel a sense of sadness," Ms Tate-Austin told CBS News in 2021. "We had to do what we had to do in order to have our house appraised for what it should have appraised for from the start.
"I mean, it's the financial impact, but it's the emotional impact. It's the feeling every day like, the tax of being African-American in this country, like you don't know, it's a coin toss."
The couple sued the first appraisal company for violating the Fair Housing Act, a federal law that prohibits housing discrimination. The lawsuit was settled on Wednesday for an undisclosed amount.
As part of the agreement, the defendants do not have to admit any liability in the case, but will have to watch a documentary about discriminatory real estate and attend a training session on the history of racial discrimination in real estate.