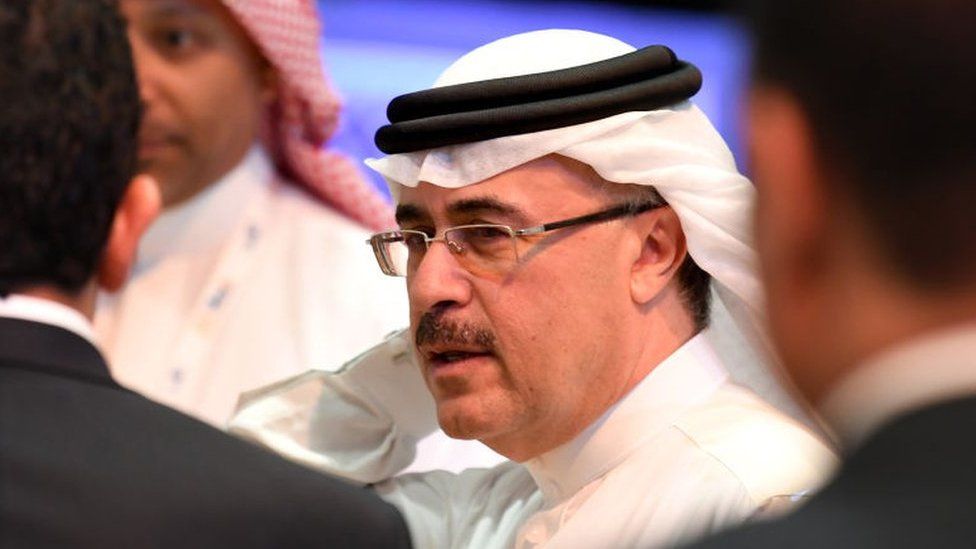 Saudi oil giant Aramco has announced a record profit of $161.1bn for 2022, helped by soaring energy prices and bigger volumes.
It represents a 46.5% rise for the state-owned company, compared with last year.
It is the latest energy firm to report record profits, after energy prices spiked following Russia's full-scale invasion of Ukraine in February 2022.
America's ExxonMobil made $55.7bn, and Britain's Shell reported $39.9bn.
Aramco also declared a dividend of $19.5bn for the October to December quarter of 2022, to be paid in the first quarter of this year.
Most of that will go to the Saudi government, which owns nearly 95% of the shares in the company.
Brent crude oil, the benchmark oil price, now trades at around $82 a barrel – though prices exceeded $120 a barrel last March, after Russia's invasion, and June.
In a statement on Sunday, Aramco said the company results were "underpinned by stronger crude oil prices, higher volumes sold and improved margins for refined products".
Aramco's president and CEO Amin Nasser said: "Given that we anticipate oil and gas will remain essential for the foreseeable future, the risks of underinvestment in our industry are real – including contributing to higher energy prices."
To address those challenges, he said, the company would not only focus on expanding oil, gas and chemicals production – but also invest in new lower-carbon technologies.
Aramco – the world's second-most valuable company only behind America's Apple, is a major emitter of greenhouse gas emissions that contribute to climate change.
Responding to Aramco's announcement, Amnesty International's secretary general Agnes Callamard said: "It is shocking for a company to make a profit of more than $161bn in a single year through the sale of fossil fuel – the single largest driver of the climate crisis."
She added: "It is all the more shocking because this surplus was amassed during a global cost-of-living crisis and aided by the increase in energy prices resulting from Russia's war of aggression against Ukraine."
Saudi Arabia is the largest producer in the oil cartel Opec (Organization of the Petroleum Exporting Countries).
The Gulf kingdom has been condemned for a range of human rights abuses: its involvement in the conflict in neighbouring Yemen, the murder in 2018 of journalist Jamal Khashoggi, for jailing dissidents, and for the widespread use of capital punishment.