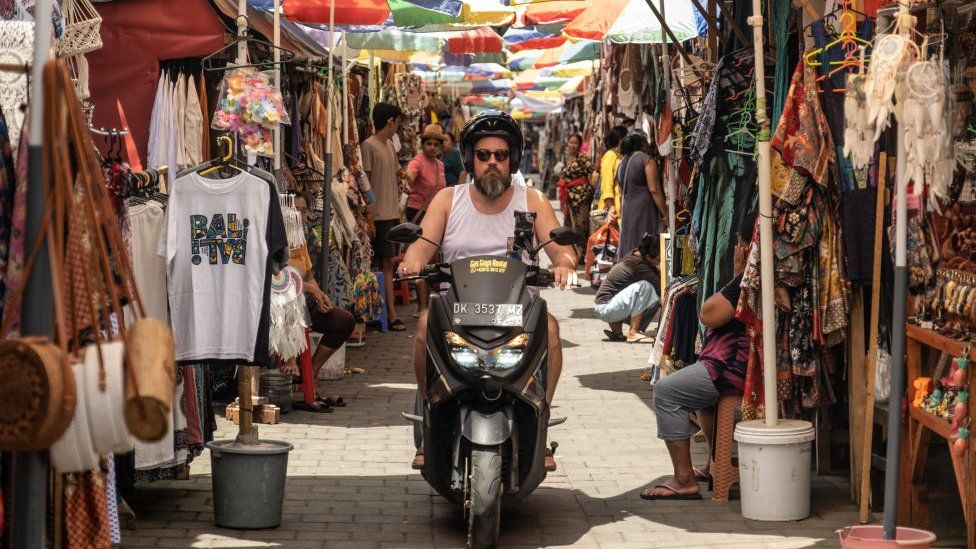 Indonesian island Bali is planning to ban foreign tourists from using motorbikes after a spate of cases involving people breaking traffic laws.
"You [should] not roam about the island using motorbikes, without wearing shirts or clothes, no helmet, and even without a licence," Governor I Wayan Koster said.
Tourists will instead get around on vehicles provided by travel agents. The plan has been divisive as tourism continues to recover from Covid losses.
More than 171 foreign nationals have violated traffic orders from late February to early March, according to local police records. Some tourists also use fake licence plates.
"If you are a tourist, then act like a tourist," said the governor.
Foreign tourists in Bali often prefer renting motorbikes to get around the island, which does not have a well-developed public transport system. The two-wheelers make for a good option for weaving in and out of traffic, as well as travelling through scenic back alleys.
The proposed ban will be implemented via a regional law sometime this year, but how it will be enforced is unclear.
One Ukrainian tourist – who asked not to be named – said foreigners should be "given the freedom" to ride motorbikes as long as they provide valid licences.
"We don't use the services of a travel agent because we want to be independent and like to do things ourselves so we can feel the atmosphere," she told BBC Indonesia.
Finnish tourist Kristo, on the other hand, supports the proposed ban. "Many riders behave like they are drunk and do not wear helmets. That is very dangerous," he told Indonesian news website detik.
But some operators have raised concerns over its effect on business.
Dedek Warjana, who chairs Bali's motorbike rental association, said the proposal was hasty and authorities should act on specific violations instead of setting a blanket ban.
Such a ban may also tarnish Indonesia's reputation in the eyes of other countries, said Nyoman Sukma Arida, a lecturer in tourism at Bali's University of Udayana.
The growing number of traffic violations also points to weak enforcement of existing rules by the local authorities, he said.
He suggested strengthening the vehicle rental system, such as by making sure those who rent have valid driver's licences, requiring security deposits, and taking action on riders who violate rules. After all not every traveller behaves badly, he said.
The governor also announced a plan to revoke visa on arrival permits for tourists from Russia and Ukraine because of misconduct. Many people from the two countries have "flocked to Bali" amid the war but are not abiding by local regulations, he said.
In the past week, for instance, authorities arrested several Russian citizens for violating their residence permits. Some also misused visitors' visas to set up businesses.
Tourism contributed some 60% to Bali's annual GDP before the pandemic. According to the province's statistics bureau, Australia was the largest contributor of foreign tourists to Bali in January 2023 – with more than 91,000 Australians landing in the province. Russia took the second spot, with about 22,000 of its citizens visiting the province that month.