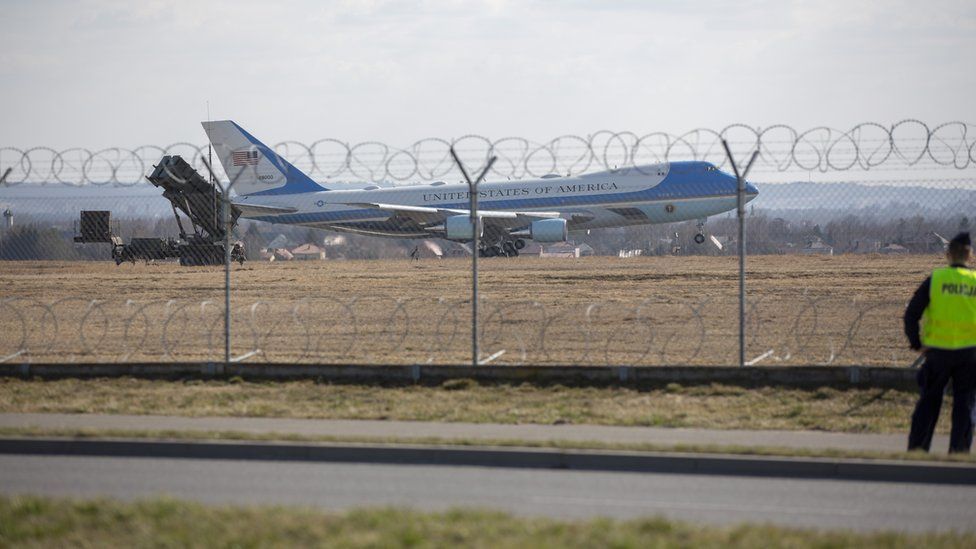 A group of foreign citizens have been arrested on suspicion of spying for Russia, two Polish government officials have told the BBC.
Radio station RMF FM reported that Polish security services had broken up a spy network working for Russia.
Six people were detained on suspicion of having installed secret cameras to film transport infrastructure used to deliver aid to Ukraine, it reported.
RMF FM said the cell had prepared sabotage plans.
The decades-long spy conflict between Russia and the West has intensified since the Ukraine war.
Poland is one of Ukraine's strongest allies and its security forces have arrested several people on suspicion of spying for Russia since the invasion last February.
According to the radio station, the group had installed dozens of cameras beside railway junctions and important transport routes in Poland's Podkarpackie province, which borders Ukraine, it said.
Some of them were found close to a small regional airport that has been converted into an international logistics hub delivering military and humanitarian aid to Ukraine.
Military and cargo aircraft from the US and across Europe regularly fly in and out of the Rzeszow-Jasionka airport, where American troops can be seen beside their Humvees, to deliver supplies to waiting trucks that make the 100km (62 mile) journey to the Ukrainian border.
The site is considered so sensitive, Washington has deployed US Patriot air defence systems to protect the airfield.
US President Joe Biden flew into the airport on his way to his recent visit to Kyiv.
Security at critical infrastructure sites has reportedly been heightened, RMF FM said.
Poland's Interior Minister, Mariusz Kaminski, who is responsible for the Polish Internal Security Agency (ABW) – and whose officers reportedly made the arrests – is due to speak to the media about the RMF FM report on Thursday morning.
Several people have been arrested for spying in the past year. Last month, prosecutors charged a Russian citizen, who is a long-term resident in Poland, with spying for Russia between 2015 and 2022.
The man, who ran a business in Poland, was allegedly involved with historical reconstruction groups, where he made contacts with Polish military personnel.
He was arrested in April last year following an investigation that found he allegedly collected information on the organisational structure of Polish military units in the north-east of the country.
A Spanish national of Russian origin, who was identified as an agent for Russia's military intelligence agency (GRU) was arrested in Przemysl, south-eastern Poland, by the ABW last year on suspicion of spying for Moscow.
In March last year, a Polish employee of the Warsaw Registry Office, identified as Tomasz L., was arrested on suspicion of transferring operationally valuable data to the Russian intelligence services.