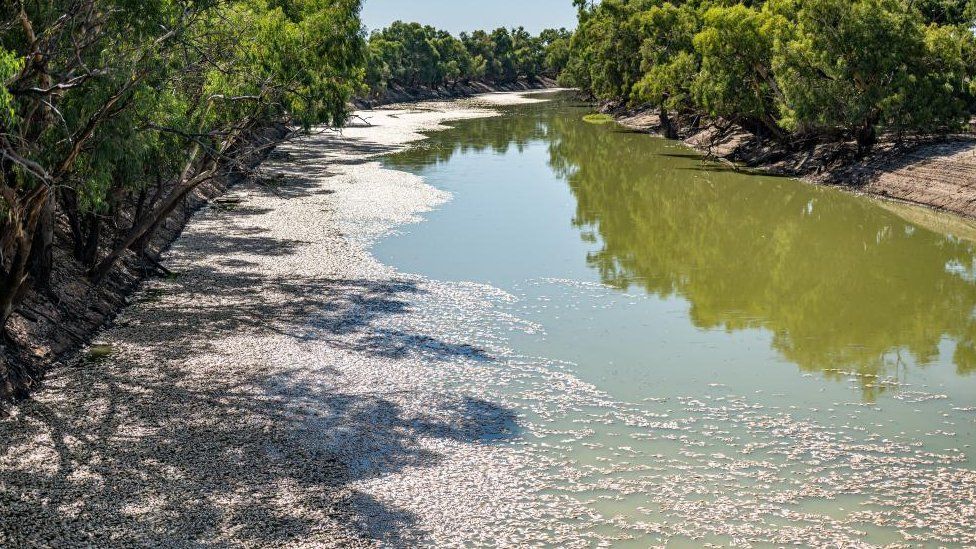 A major clean-up operation is under way in Australia after millions of fish died in a river in New South Wales state (NSW). The recovered carcasses are likely to end up in landfill.
An emergency hub has been set up at Menindee in the state's far west to co-ordinate the clean-up and monitor water quality.
The deaths are thought to have been caused by an unseasonal heatwave.
Temperatures in the area reached 40C (104F) at the weekend.
Authorities said there was "no need for community concern" over water quality in the river, which supplies many local residents.
"There is ongoing testing of the water quality, which will ensure immediate action if a switchover for supply is required," NSW Police Deputy Commissioner Peter Thurtell said.
Meanwhile, volunteers from conservation charity OzFish have begun a search and rescue operation to retrieve as many surviving native fish from the river as possible.
Describing the smell as "putrid", Braeden Lampard told the Australian Broadcasting Corporation his team were transferring rescued fish to a holding tank supplied with oxygen.
He estimated 85% of the dead fish were native species such as Bony Bream and Golden Perch, with the rest consisting of non-native types such as carp.
The deaths are believed to have been caused by hypoxic blackwater, a naturally occurring phenomenon which causes extremely low oxygen levels.
State government agencies said they were releasing higher quality water to boost dissolved oxygen levels, and would work with federal agencies to find the underlying cause.
The latest event follows another mass fish die-off in the same area that occurred in similar conditions in 2018.
The Darling-Baaka River forms part of the Murray-Darling Basin, which is Australia's largest river system.
Its ecosystem has faced pressure from drought and increased human use in recent years, while last year brought severe flooding after intense rainfall and storms.
Authorities said the latest die-off had been exacerbated by "significantly increased numbers of fish in the system" as floodwaters receded.