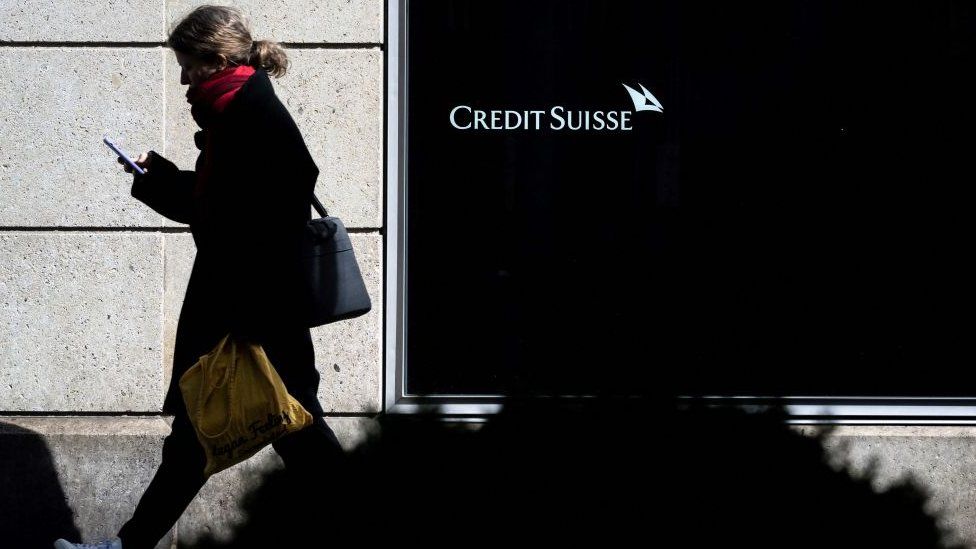 Fears in financial markets appeared to ease, a day after regulators agreed a rescue deal for troubled lending giant Credit Suisse. The bank was bought by rival UBS on Sunday after regulators worked around the clock to secure the takeover.
Along with the collapse of two smaller US banks, its struggles had sparked fears over the global financial system.
Hope that the deal would help contain the crisis helped lift shares in Europe and the US. London's FTSE 100 closed up roughly 0.9%, recovering ground after early losses. Major indexes in Europe also ended higher, with UBS climbing roughly 1.5% by the end of the day.
In the US, the three major exchanges also gained,despite worries about another regional bank, First Republic.
Shares in the San Francisco-based firm sank more than 40%,as the injection of funds by 11 of America's biggest banks last week failed to restore confidence in the bank's future. There were reports of another effort to stabilise the bank, which has seen shares plunge as customers transfer their money – as authorities sought to keep the crisis contained.
Shares of some other banks in the US and Europe also remained under pressure. In the UK, a spokesperson for Prime Minister Rishi Sunak aimed to reassure investors saying UK banks were "safe and well capitalised" after the emergency rescue of Credit Suisse. It came after central banks around the globe made similar comments.
Six central banks, including the US Federal Reserve, also announced they would boost the flow of dollars in the global financial system to make sure banks had easy access to cash. Despite the panic, experts do not expect a repeat of 2008 when banks stopped lending to each other. The situation was so dire then it sparked a global recession.
Banks have been struggling with the recent rise in interest rates which has left some sitting on substantial losses.
It led to the collapse of Silicon Valley Bank and Signature Bank – two medium sized lenders – in the US last week and sparked concerns other banks could get into trouble. Credit Suisse, which had been loss-making for some time but which was otherwise well capitalised – has been hit by this crisis of confidence.
The 167-year-old institution is one of around 30 banks worldwide deemed too big to fail because they are of such importance to the banking system. Switzerland's second largest lender, which has struggled with a string of scandals over the last few years, was sold to UBS at just over $3.15bn, a fraction of its $8bn price tag on Friday.
UBS chairman Colm Kelleher described said it would wind down Credit Suisse's investment banking operations but that it was "too early" to say what would happen about jobs.