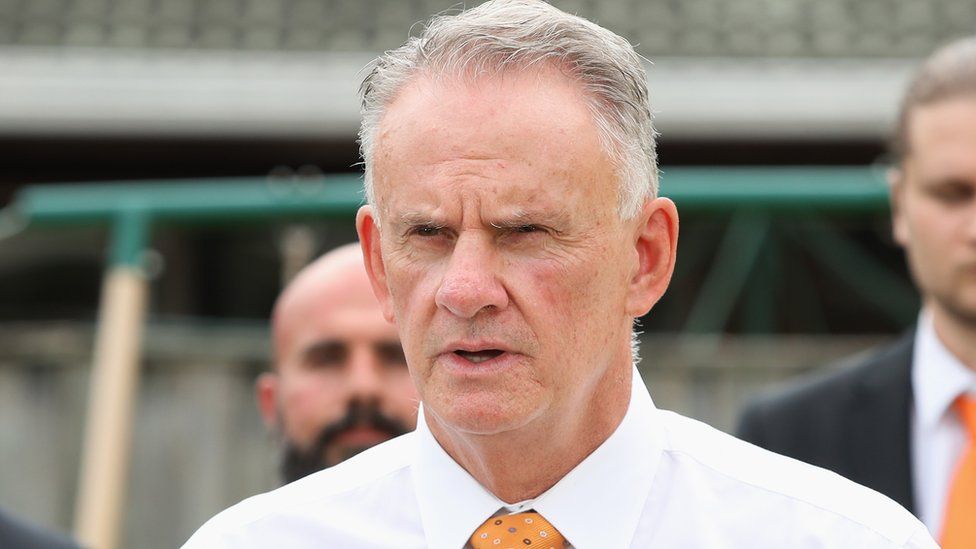 Two men have been arrested after a mob clashed with LGBT activists outside a Sydney church, Australian police say. The LGBT group said "hundreds of far-right thugs" punched protesters outside the church event attended by right-wing politician Mark Latham.
Mr Latham said the meeting was being held to discuss "religious freedom and parental rights".
The incident comes days after clashes between pro and anti-transgender groups in Melbourne.
New South Wales Police Superintendent Sheridan Waldau said peaceful protesters were set upon by a "mob" of about 250 people outside the church in Belfield, south-west Sydney on Tuesday evening.
Glass bottles and other projectiles were thrown at officers, and a 38-year old man was pushed to the ground and assaulted, police said. Riot police were called in to disperse the crowd, and two men, aged 34 and 41, were arrested and charged with encouraging the commission of crimes and common assault respectively, they said.
Supt Waldau told reporters she expected further arrests on Wednesday as police reviewed footage of the incident.
Video posted on Facebook showed a crowd of men confronting the LGBT activists and appearing to throw punches.
Mr Latham, a member of the right-wing populist One Nation party, is an outspoken critic of the teaching of "gender diversity" in schools. In a tweet, LGBT group Community Action for Rainbow Rights (CARR) said several activists were "punched in the face multiple times as they were surrounded by a mob 30 times their size".
Channel 9 reporter Ruth Wynn-Williams told Sydney's 2GB radio the incident had "a very small beginning", with some 15 LGBT protesters set upon by "a huge group of [Latham] supporters who came out of that church".
"It wasn't a minor incident… they were quite riled up when they took these protesters on," she said.
Mark Latham said police had advised him not to speak at the event, and said this was "a denial of democracy".
He tweeted that he was speaking about "important election issues", including "religious freedom, parental rights, school education and protecting non-Govt schools from Alphabet Activism", and "thoroughly condemned" the violence outside.
He said the event had not been organised by One Nation or himself.
Mr Latham began his political career with the Australian Labor Party and served as its leader from 2003 – 2005. He then retired from politics and became an outspoken political commentator, known for his generally right-wing, socially conservative views. He returned to politics in 2017 and is currently standing for One Nation in the NSW state election, which takes place this Saturday.
Tuesday's incident follows last Saturday's clashes outside the Victorian state parliament in Melbourne between rival protest groups at a "Let Women Speak" event being staged by British anti-transgender campaigner Kellie-Jay Keen-Minshull.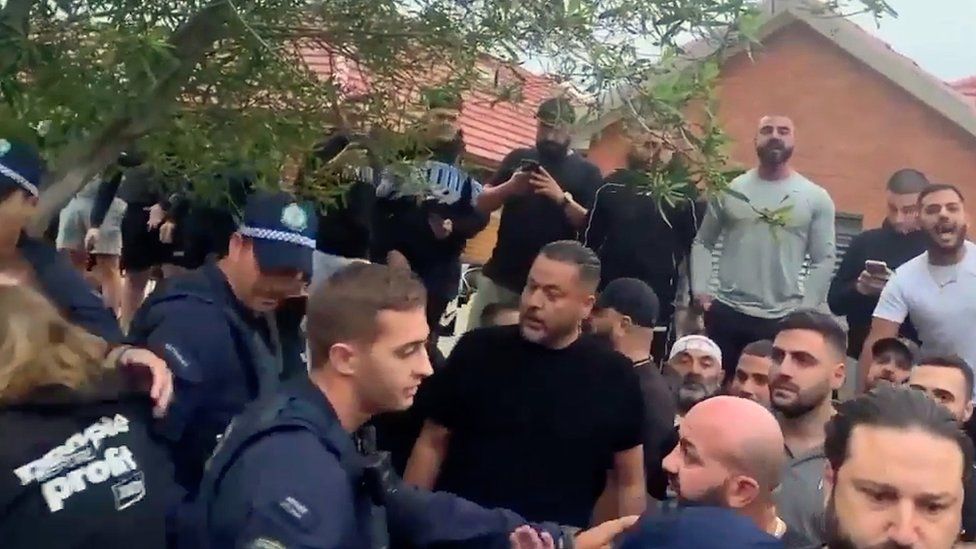 The presence of neo-Nazis at that event, in apparent support of Ms Keen-Minshull, has triggered a huge backlash, with calls for Victoria to tighten-up state laws on the display of hate symbols, including Nazi salutes.
The Australian Liberal Party is also attempting to expel its MP Moira Deeming, who attended the event and was photographed alongside Ms Keen-Minshull.
In a statement, Ms Deeming said neo-Nazis had "gatecrashed" the rally, and most attendees did not realise who they were. "None of those organising the event had any involvement with these men, as has been confirmed by Victoria Police, the Australian Jewish Association and all the organisers themselves," she said.