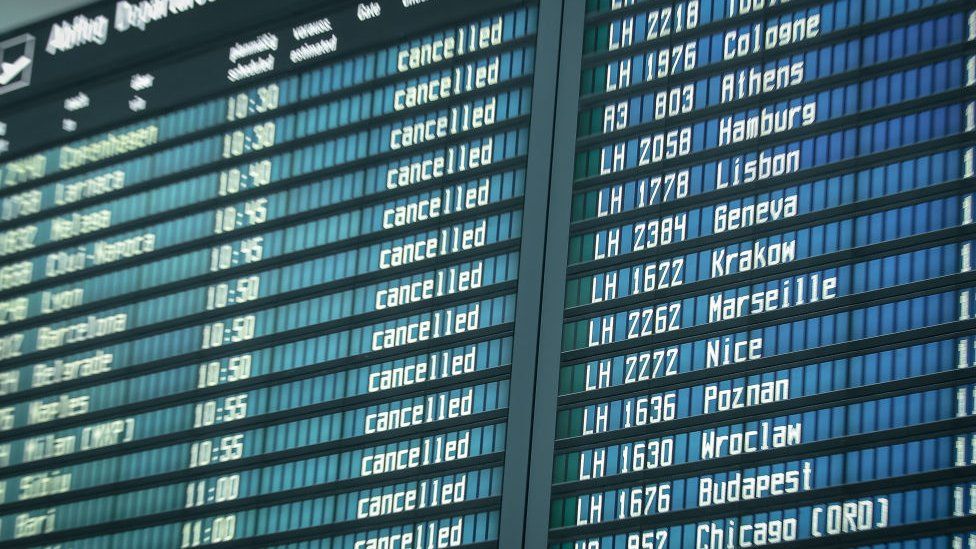 Germany's transport network will be at a near standstill on Monday as two of the country's largest unions strike.
Staff at airports, ports, railways, buses and subways walked out shortly after midnight for a 24-hour stoppage.
Unions are demanding higher wages to help their members cope with the rising cost of living across the country.
There have been multiple smaller walkouts by other public service sectors, but Monday's will be the largest in decades in the country.
The two unions involved in the strike are among the largest in Germany. Verdi represents around 2.5 million employees across the public sector including in public transport and at airports.
EVG represents around 230,000 employees at Deutsche Bahn – Germany's national rail operator, and other bus companies.
They hope it will increase pressure on employers ahead of another round of pay negotiations on Monday.
Frank Werneke, the chief of Verdi described the pay rise as "a matter of survival for many thousands of employees, according to local media.
"The people are not only underpaid, they are hopelessly overworked," he said. Verdi wants to secure a 10.5% pay rise for staff, while the other union involved, EVG, wants a 12% raise.
Germany's national rail operator, Deutsche Bahn, condemned the plans and described it as "completely excessive, groundless and unnecessary".
At Munich Airport on Sunday, multiple flights were disrupted by the walkout.
Germany's airport association said about 380,000 air travellers would be affected by the strike but added that it was "beyond any imaginable and justifiable measure".
Some employer representatives warn the unions are making unreasonable demands which risk alienating the public.
However, some unions have succeeded in winning wage increases, including postal workers who won an 11.5% pay rise in early march.