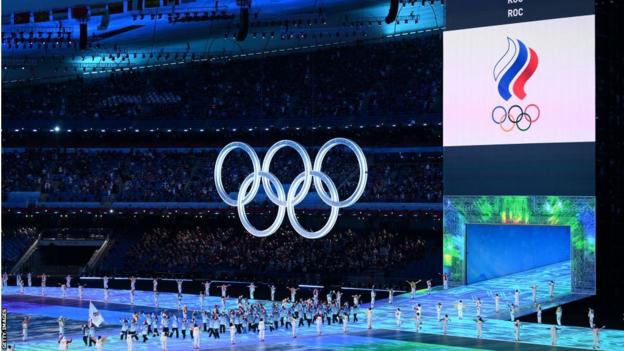 The International Olympic Committee has recommended that Russian and Belarusian athletes are allowed to compete under a neutral flag – but has yet to make a decision on Paris 2024.
This recommendation only extends to individual athletes, not teams.
The IOC's executive board has also told international federations and event organisers that athletes and support personnel who actively support the war in Ukraine, or who are contracted to the military, should not be permitted to compete.
Regarding next year's Olympics in Paris and the Milan-Cortina Winter Olympics in 2026, the IOC said it would take a decision "at the appropriate time".
It added it would "closely monitor the full implementation" of its recommendations, with compliance being an "important factor" in its future decision on the upcoming summer and winter Games.
"Participation of athletes with Russian and Belarusian passports in international competitions works," said IOC president Thomas Bach.
"We see this almost every day in a number of sports, most prominently in tennis but also in cycling, in some table tennis competitions.
"We see it in ice hockey, handball, we see it in football and in other leagues in the United States but also in Europe and we also see it in other continents.
"In none of these competition security incidents have been happening."
On Tuesday the IOC noted that in its deliberations the "70 other ongoing armed conflicts and wars" globally were considered, adding that the national Olympic committees in those affected areas were not requesting any exclusion of athletes.
On Friday, Ukraine's sports minister Vadym Guttsait accused the IOC of "double standards" over its suggestion that Russian and Belarusian athletes could compete at Paris 2024.
The IOC's sanctions on Russia and its ally Belarus – implemented following Russia's invasion of Ukraine in February 2022 – "remain firmly in place". As part of these sanctions, no international sporting events can be organised in either of the nations, while their flags, national anthems or any other national symbol must not be used.
The IOC reiterated its condemnation of Russia's invasion, and has tripled its solidarity fund for Ukraine's national Olympic committee to $7m.
However, it has also reiterated its "firm rejection of any political interference in the autonomous authority of sports organisations to decide on participation in their competitions".
Ukraine has threatened to boycott the Paris Games if a ban on Russian and Belarusian athletes is not upheld.
The IOC's recommendations were soon criticised from both sides, with Poland's deputy foreign minister Piotr Wawrzyk calling a "day of shame" for the organisation.
Czech foreign minister Jan Lipavsky said: "We must not close our eyes to reality. Russian sport is centrally managed by the Kremlin. The Russian regime does not know what fair play is. "Its athletes do not belong in the Olympic Games."
Stanislav Pozdnyakov, the president of the Russian Olympic Committee, said the recommendations were "absolutely unacceptable".