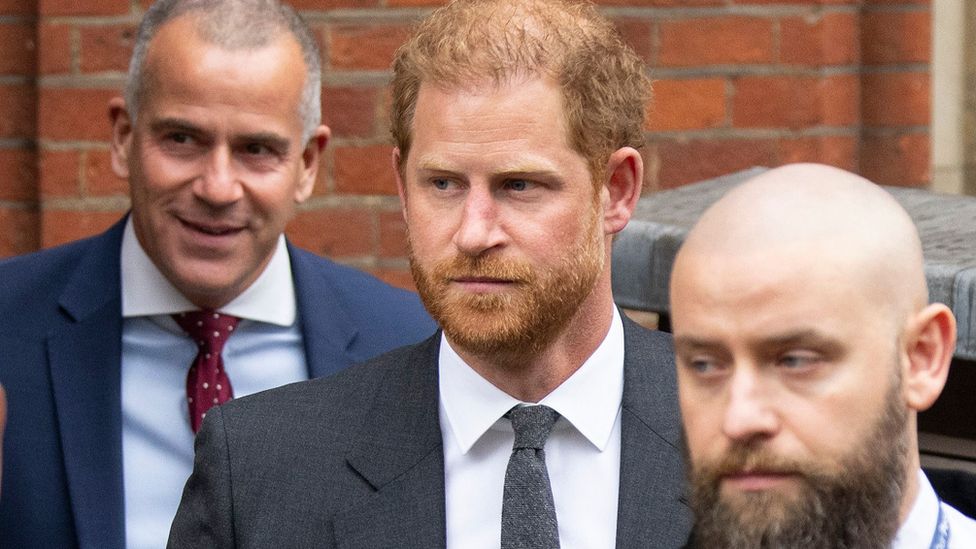 Prince Harry says he is determined to hold the publisher of the Mail newspapers to account as he says he is "deeply concerned" by their "unchecked power, influence and criminality".
His witness statement was disclosed as part of his privacy case against Associated Newspapers. In it, he also claimed he was kept out of Royal Family discussions about taking legal action on phone hacking.
He attended the High Court for a second day of legal arguments on Tuesday.
The Duke of Sussex and six other claimants, including Sir Elton John and Baroness Doreen Lawrence – the mother of murdered teenager Stephen Lawrence – claim their personal information was obtained illegally and used as material for Daily Mail and Mail on Sunday stories.
Associated Newspapers has dismissed the claims as "preposterous smears" based on a "fishing expedition".
In the duke's statement, he criticises attempts by the publisher in court this week to have the case thrown out for legal reasons.
"Unfair is not a big enough word to describe the fact that Associated is trying at this early stage to prevent me from bringing my claim," the statement reads.
"If the most influential and popular newspaper in the UK can evade justice without there being a trial of my claims, then what does that say about the industry as a whole and the consequences for our great country.
"I am bringing this claim because I love my country and I remain deeply concerned by the unchecked power, influence and criminality of Associated."
The statement details stories the duke claims were based on private information which had been obtained illegally.
They include reports about his relationships with two girlfriends.
He also criticises a story about his reaction, along with that of his brother William, to the publication of pictures of his dying mother in the Italian media.
"It is really disgusting", he says, with a "crude headline" and "explicit reference to a phone call".
"My brother and I were relatively young at the time (I was just 21) and we were having private conversations about photographs of our dead mother which had been put into the public domain."
In his witness statement, Prince Harry said the Royal Family – which he referred to as the Institution – had been withholding information from him about the possibility of taking legal action in response to media intrusions.
He said he only started talking to a senior lawyer for the Royal Family when he began dating his now wife and "defamatory stories" were published.
The prince eventually became aware he could take legal action over phone hacking in 2018, he says.
"The Institution made it clear that we did not need to know anything about phone hacking and it was made clear to me that the Royal Family did not sit in the witness box because that could open up a can of worms," he said.