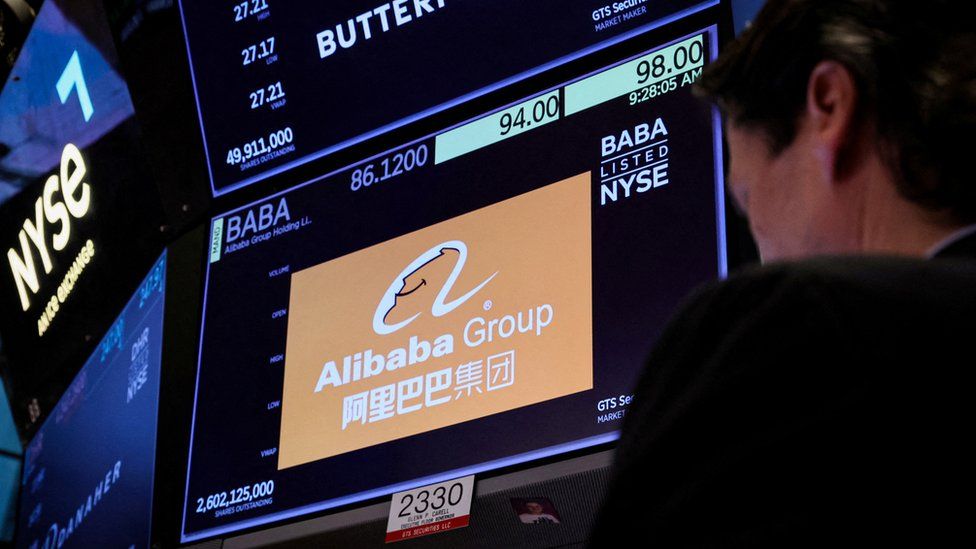 Shares of Chinese technology giant Alibaba have jumped after it announced a plan to break up the company.
The firm says five of the six units created by the move will explore raising fresh funding and initial public offering (IPO) options.
Alibaba shares gained more than 14% in New York on Tuesday and were more than 13% higher in Hong Kong on Wednesday.
Its US-listed shares have fallen by almost 70% since 2020 on concerns over Beijing's crackdown on the tech sector.
The move comes after reports that Alibaba founder Jack Ma, who has rarely been seen in public in the last three years, resurfaced in China this week after a long absence.
Alibaba said the decision to split up the business is the biggest restructuring in its 24-year history.
The units will have their own chief executives and boards of directors. They will be allowed to raise capital and seek stock market listings, except for the online retail platform Taobao Tmall Commerce Group, which will remain wholly owned by Alibaba.
In filings to the US Securities and Exchange Commission and the Hongkong Stock Exchange, Alibaba said the units will "capture opportunities in their respective markets and industries, thereby unlocking the value of Alibaba Group's respective businesses".
"The market is the best litmus test, and each business group and company can pursue independent fundraising and IPOs when they are ready," chief executive Daniel Zhang said in a letter to staff.
Mr Ma, who founded Alibaba, recently returned to China after more than a year overseas, according to a report in the Alibaba-owned South China Morning Post newspaper this week.
He met staff and toured classrooms at the Yungu School in Hangzhou, the city in which Alibaba is headquartered, the newspaper said.
Mr Ma was the most high-profile Chinese billionaire to disappear amid a crackdown on technology entrepreneurs.
The 58-year-old has kept a low profile since criticising China's financial regulators in 2020. He stepped down as the chairman of Alibaba in September 2019.