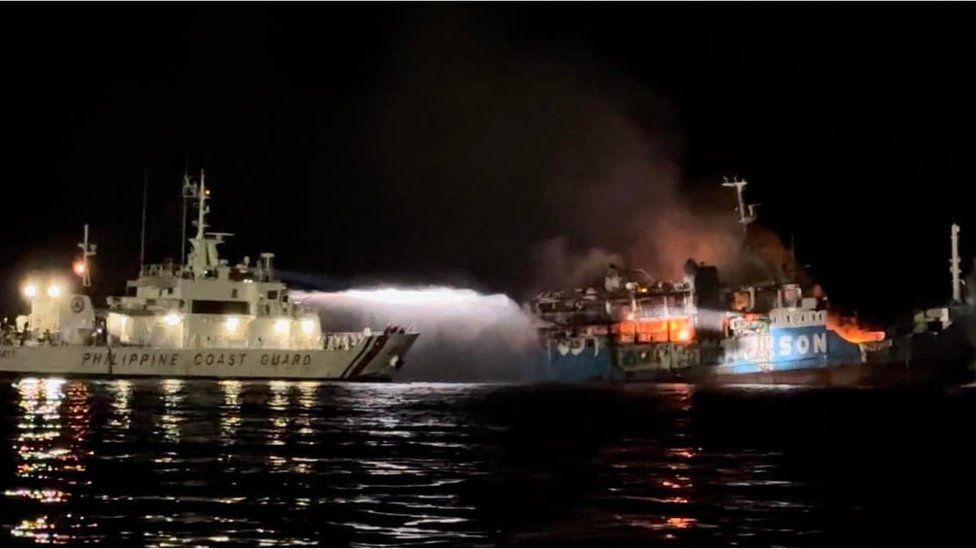 At least 28 people have been killed and 230 rescued after a passenger ferry caught fire in the Philippines.
The blaze began in the ship's air-conditioned cabins on Wednesday night but it is unclear how, officials said.
Among the dead were at least three children, including a six-month-old baby.
Earlier, officials said the number of people missing was uncertain because an exact passenger count was not known. Just 205 were listed on a manifest.
The Philippine Coast Guard said search and rescue operations were ongoing.
The MV Lady Mary Joy 3 caught fire around 22:40 local time, off Baluk-baluk island in Basilan province. It had been travelling to another island.
Mayor Arsina Kahing-Nanoh told CNN Philippines that one of the rescued passengers said an explosion could be heard before the blaze broke out.
She added that more explosions were heard as the ship ran aground.
The coast guard said it would assist with an investigation and safety assessment, and check for oil spills.
The Philippines, an archipelago of more than 7,600 islands, has a poor maritime safety record. Vessels are often overcrowded, with many ageing ships still in use.