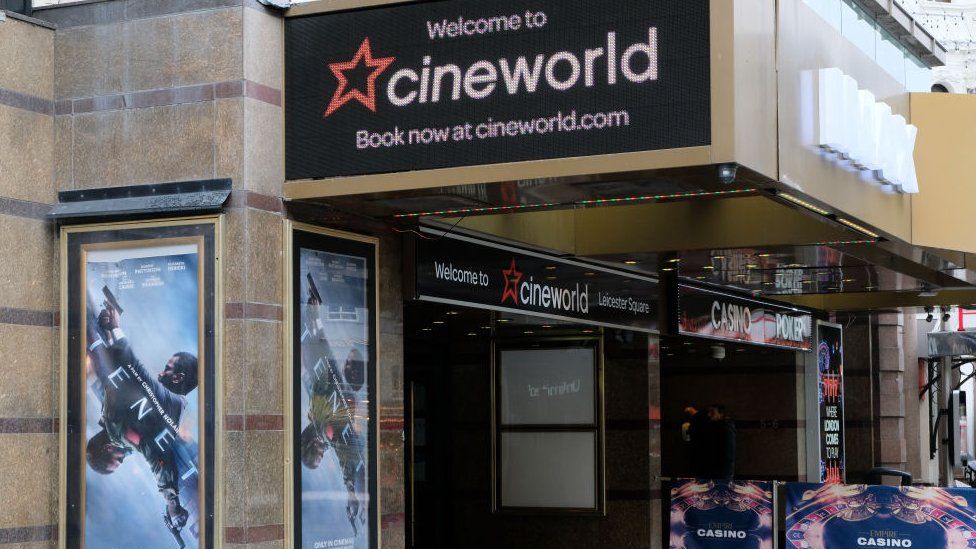 Cineworld says it plans to raise $2.26bn in new funding as the struggling cinema chain aims to emerge from bankruptcy.
The company filed for US bankruptcy protection last year.
It has been trying to restructure its $5bn of debt after being hit hard by lockdowns and a lack of big movie releases due to the pandemic.
Cineworld, which also owns the Picturehouse chain in the UK, has been struggling to find a buyer.
The proceeds of the capital raising will be used to fund the turn around of the business including costs related to the restructuring its debts, Cineworld said in a filing with the US bankruptcy court in the Southern District of Texas.
It is the world's second-largest cinema chain by the number of screens, with more than 9,000 screens in almost 750 locations.
Cineworld's operations span 10 countries – including the UK, the US, Poland and Israel – with approximately 30,000 employees worldwide.
Cinema chains were one of the worst hit industries during the pandemic.
Many cinemas were forced to close for extended periods during the lockdowns, or had to operate at a reduced capacity due to social distancing rules.
Cineworld reported a huge loss for the first six months of 2020 after it was forced to temporarily close some cinemas, and movie studios delayed the release of some blockbuster movies.
Cinemas have also been facing tough competition from streaming services, which soared in popularity during the lockdowns.
In 2020, a row broke out when Cineworld and rival AMC, which owns the Odeon Cinemas chain, criticised Universal Pictures for releasing Trolls: World Tour online at a time when cinemas were forced to close because of coronavirus.
Cineworld subsequently signed a deal with Warner Bros to show films in theatres before they are streamed.
More recently, streaming giant Netflix reported a sharp fall in subscribers, as the rising cost of living leads to people cutting back.
The company's London-traded shares have plunged by more than 90% over the last year as investors fret about its future. Its current stock market value is below £40m ($49.1m).