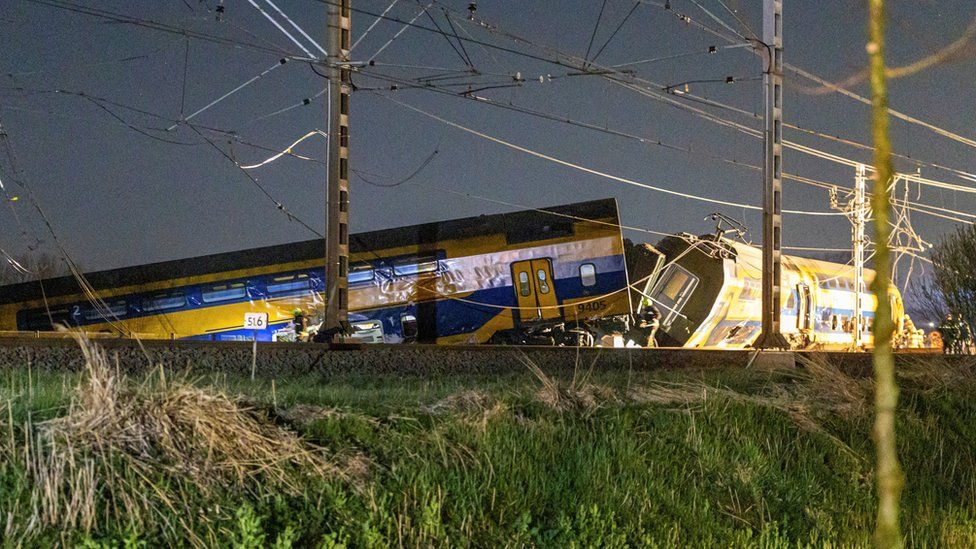 At least one person has been killed and about 30 injured – some seriously – after a passenger train derailed in the western Netherlands.
Emergency services say the overnight crash happened after the train transporting about 50 people hit construction equipment near the village of Voorschoten.
Earlier reports had said this followed a collision with a freight train. Rescuers and medics are now working on the scene, helping the injured.
The crash happened at about 03:25 local time on Tuesday. Pictures from the scene showed overturned carriages and a plume of smoke rising in the night sky.
Several ambulances were seen standing ready to transport the injured.
In their latest update, the emergency services say those seriously injured have been taken to nearby hospitals, while 11 people are being treated in the houses of local residents.
Officials from the Dutch Safety Board, a body that conducts independent investigations into accidents, have been dispatched to the crash scene. Voorschoten lies between The Hague and Amsterdam.
The NRC newspaper reported that no trains were currently running between The Hague and Leiden because of the crash.