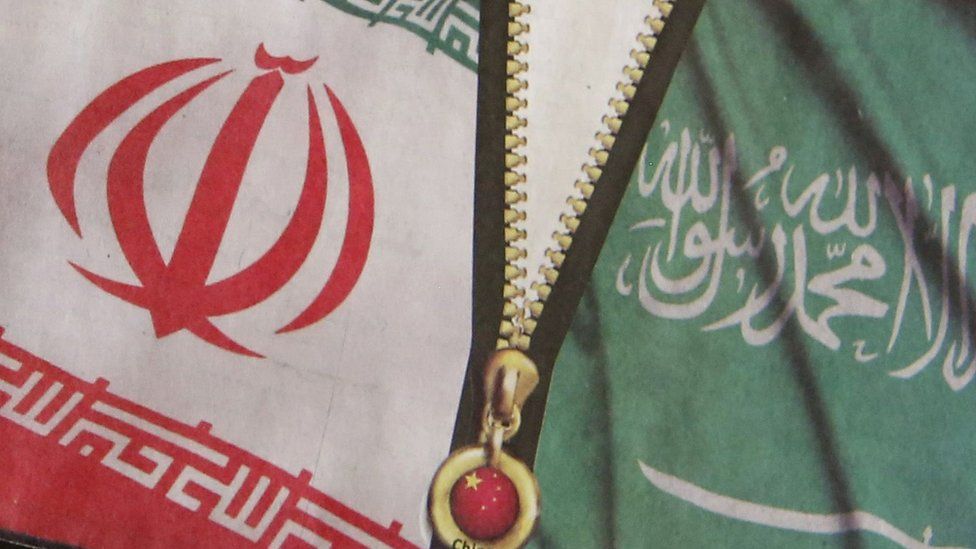 The foreign ministers of Iran and Saudi Arabia – two bitter historical rivals in the Middle East – have held talks for the first time since 2016.
Saudi's al-Ekhbariya TV aired a brief video showing Prince Faisal bin Farhan al Saud and Hossein Amir-Abdollahian greeting each other in China.
Last month, the two nations agreed to restore diplomatic relations during lower-level talks also in China.
Saudi Arabia cut ties in 2016 after crowds stormed its embassy in Tehran . This followed Riyadh's execution of a prominent Shia muslim cleric.
Tensions between the Sunni-majority Saudi Arabia and Shia-led Iran have since often been high.
They regard each other as a threatening power that seeks regional dominance. They also support rival sides across the Middle East, including in Lebanon, Syria, Iraq – and most overtly in Yemen.
Iran has backed Shia Houthi rebels who forced out the Saudi-backed government in 2014, while Saudi Arabia has led a devastating air campaign against the Houthis since the following year.
Saudi Arabia has also accused Iran of helping the Houthis attack it.
In the most serious incident of its kind, drones and missiles struck major Saudi oil facilities in 2019, causing damage and disruption to production. Saudi Arabia and its US ally blamed Iran for the attack – something Iran denied.
Previous attempts at reconciliation had been unsuccessful, but last month the two countries said they would reopen embassies within two months. They also said trade and security relations would be re-established.
The US cautiously welcomed that announcement, while UN Secretary General António Guterres thanked China for brokering the deal.