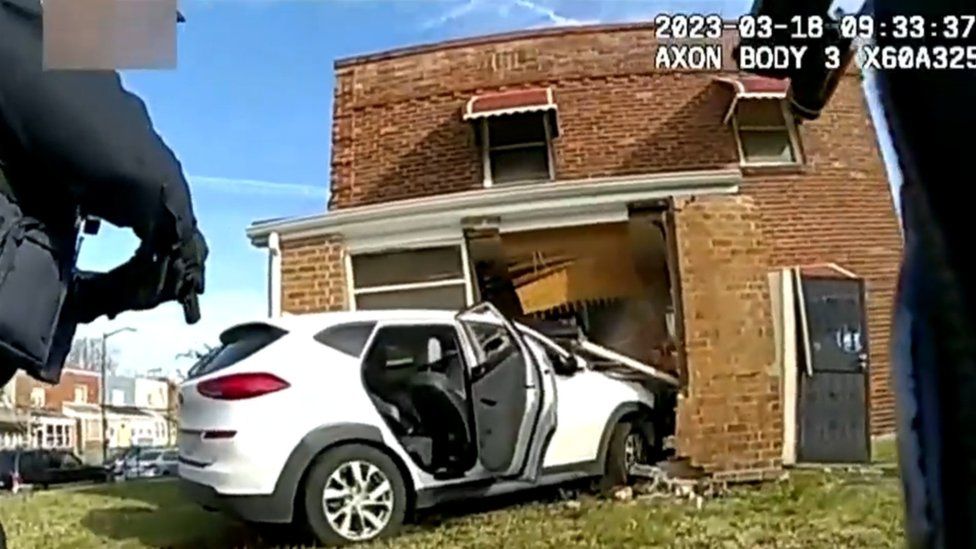 The US justice department will investigate the death of a Washington DC teenager who was shot by a police officer sitting behind him in a car.
Dalaneo Martin, 17, was asleep in a parked, stolen SUV when officers opened the door on 18 March, say police.
Bodycam footage shows police stealthily entering the vehicle to make an arrest. The suspect, who was black, speeds away with an officer in the back seat.
After telling him to stop, the officer opens fire on the teenager from behind.
"The loss of a life is always tragic but is especially heartbreaking when it involves a child," the department of justice said in a news release on Wednesday, announcing the civil rights investigation.
It called the bodycam video "extremely upsetting" and extended condolences to family and friends of the teenager.
He was shot by an unidentified officer with US Park Police – the law enforcement arm of the National Park Service – during an investigation with Washington DC Metro Police.
Footage released on Tuesday shows police officers conferring on how to arrest the suspect as he apparently dozes in a car with a running engine. It was just before 09:00 local time on a Saturday.
They discuss cutting through plastic film that was being used as a temporary window and restraining him before he can drive off.
A Washington police officer can be heard in the video advising Park Police: "Please don't get caught inside [the vehicle]."
Footage shows the teen driving away, leaving an officer in the backseat.
"Stop man, just let me out! Let me go!" the officer is heard shouting.
"Stop. Stop or I'll shoot!" he says seconds before firing multiple times.
The car crashes into a home seconds later and police are seen rendering medical aid to the teen on a front lawn. Officers say a gun was recovered from the car.
The chairman of the US Park Police union has defended the officer. "There is a lawful reason for him to be in the car, the use of force was justified and the union stands behind the actions the officers took," Kenneth Spencer told the Washington Post.
The teenager's mother says that she wants the officer who fired the shots to be sacked and prosecuted. "This pain hurts so bad," Terra Martin told reporters on Wednesday.