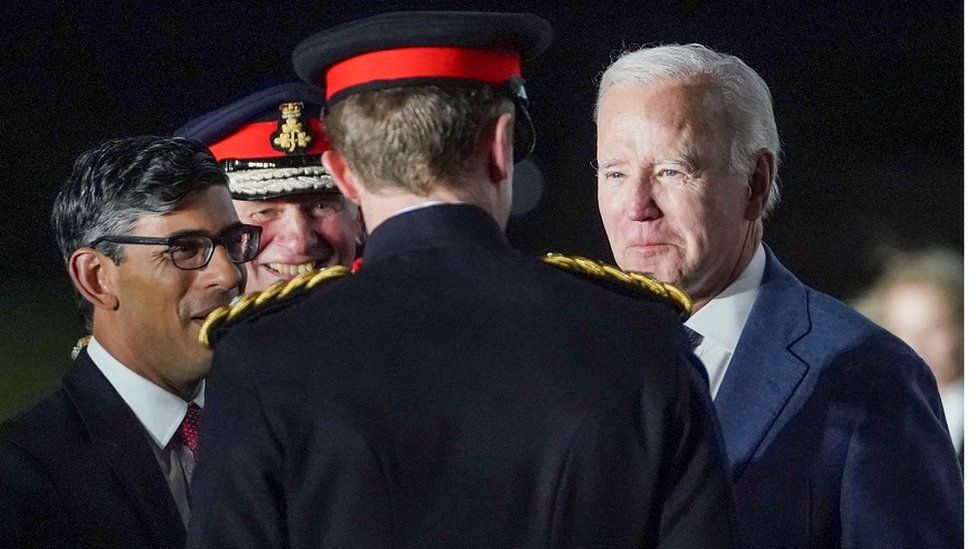 US President Joe Biden has landed in Belfast at the start of an historic four-day visit to Northern Ireland and the Republic.
Mr Biden was greeted by Prime Minister Rishi Sunak as he stepped off Air Force One at Belfast International Airport.
His visit marks the 25th anniversary of the Good Friday Agreement – a peace deal which helped end 30 years of violent conflict in Northern Ireland.
The White House hailed the "tremendous progress" since it was signed in 1998. But Mr Biden's trip is overshadowed by the fact that Northern Ireland's power-sharing government is not functioning.
It collapsed last year when the Democratic Unionist Party (DUP) – one of the biggest parties at Stormont – pulled out as part of a protest against post-Brexit trade rules for Northern Ireland.
Mr Biden arrived in Belfast city centre at about 22:20 BST after making the journey from the airport in his presidential motorcade. A huge security operation has been in place for most of Tuesday, with many city centre streets closed ahead of the visit.
Ahead of his arrival, Mr Biden said he was looking forward to marking the anniversary in Belfast and "underscoring the US commitment to preserving peace and encouraging prosperity". His trip to Belfast will be the first leg of a four-day stay in Ireland, during which he will also discuss his Irish roots and meet Irish relatives. His sister Valerie and his son Hunter are also accompanying the US president on the visit.
Mr Biden's trip comes two weeks after MI5 said the terrorism threat level in Northern Ireland had increased due to a rise in activity by dissident republicans. During an illegal parade by dissident republicans in Londonderry on Monday petrol bombs were thrown at a police vehicle but the violence was confined to one area and ended a short time later.
On Tuesday, police found four suspected pipe bombs inside the grounds of the City Cemetery in Derry. They believe they were to be used in a planned attack on officers after Monday's parade.
The president's spokesman said Mr Biden was "more than comfortable making this trip" in spite of the terrorism threat. Mr Biden was expected to stay overnight at a Belfast hotel ahead of the main event of his visit to Northern Ireland, a speech at the new Ulster university campus in Belfast on Wednesday.
In that speech he is expected to emphasise the willingness of the US to help to preserve what he sees as the peace and prosperity gained since the Good Friday Agreement. The president is also expected to talk about how the US administration can support Northern Ireland's economy.
Mr Biden is also set to meet the leaders of Stormont's five main political parties at some point during his brief time in the city.
Michelle O'Neill, vice-president of Sinn Féin, the largest party at Stormont, said President Biden's visit would be a "special moment".
"As we look back with pride at just how far we have all come, and all that has been achieved, we also look forward with hope, ambition, and opportunity for the next 25 years," she added.
Mr Sunak will not meet any of Northern Ireland's political leaders while he is in Belfast to speak to the president, but a spokesperson said that did not mean he had given up on getting the DUP back into power-sharing.