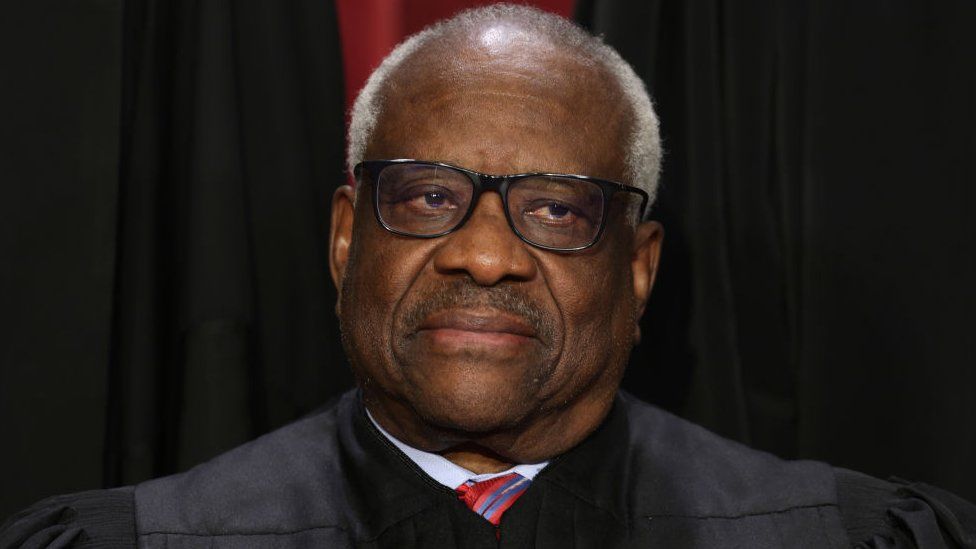 Democratic senators are calling for the Supreme Court to investigate Justice Clarence Thomas for failing to disclose reported luxury trips funded by a billionaire Republican donor.
The Senate Judiciary Committee Democrats have announced they will hold a hearing on Supreme Court ethics.
The panel also warned of legislation, if the court does not resolve this issue on its own.
Justice Thomas has said he did not think he needed to report the trips.
In a letter to Chief Justice John Roberts, Senate Judiciary Committee Chair Dick Durbin, and 10 other Democratic lawmakers said Justice Thomas' behaviour was "plainly inconsistent with the ethical standards the American people expect of any person in a position of public trust".
"If the Court does not resolve this issue on its own, the Committee will consider legislation to resolve it," the lawmakers added.
ProPublica reported last week Justice Thomas had accepted vacations including luxury yachts and private planes from real estate mogul Harlan Crow nearly each year for several decades.
The report sparked a backlash from some lawmakers who have argued the court should establish a stricter code of conduct for its justices.
Supreme Court justices are required to file annual disclosures of gifts, but Justice Thomas has said colleagues and others told him "this sort of personal hospitality" did not apply.
The conservative jurist has come under fire before, including after the 2020 presidential election when his wife, Ginni Thomas, tried to convince former President Donald Trump's White House staff to overturn the 2020 presidential election.
In their Monday letter, the Senate Judiciary Democrats said they would hold a hearing on "the need to restore confidence in the Supreme Court's ethical standards" in the coming days.
The committee members argued Chief Justice Roberts had a role to play "both in investigating how such conduct could take place at the Court under your watch, and in ensuring that such conduct does not happen again".
Justice Thomas is one of six conservative-leaning justices of the nine-member Supreme Court.