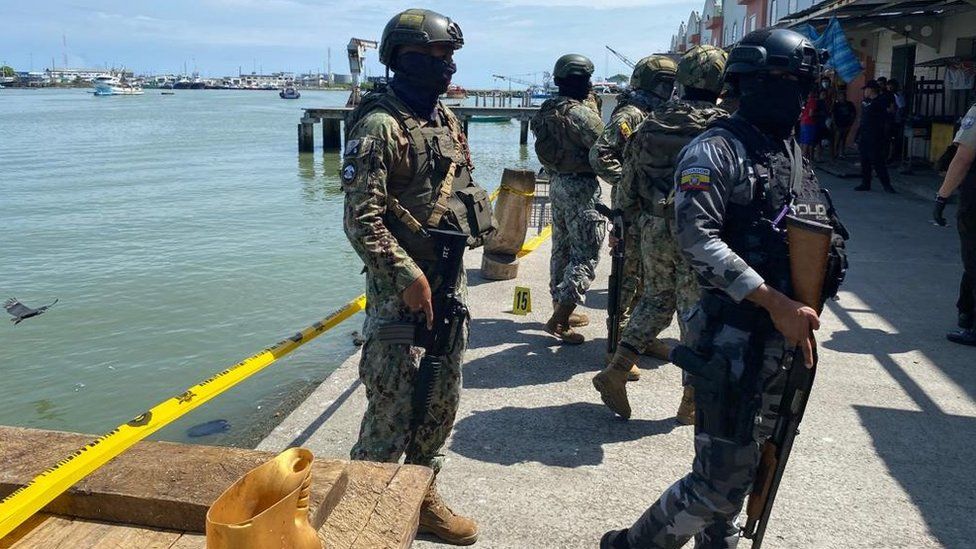 Police in Ecuador are searching for a group of around 30 gunmen who killed nine men working at the fishing port of Esmeraldas on Tuesday.
The heavily armed gunmen arrived both by sea and by land and appeared to fire on the workers indiscriminately.
Ecuador's Interior Minister Juan Zapata said they may have been targeted because they had paid "protection money" to a rival gang.
Gang-related violence has been on the increase in Ecuador.
Many gangs engage in extortion, threatening local businesses and forcing them to pay them regular fees for their "protections". If they refuse, their businesses or the owners themselves are attacked.
Police said some of the victims were boatmen, some hauled cargo and others worked in the warehouses on the water's edge, where shrimp and fish are stored. The youngest was 28 and the oldest 79 years old.
Video shared on social media shows a boat full of men arriving at the port. Dozens of shots can be heard ringing out as people on the dockside flee in panic.
Police said that at least 180 rounds had been fired during the attack.
While the victims worked in small-scale fishing businesses in Esmeraldas, the port is also of strategic importance for drug traffickers, who use it to launch speed boats laden with cocaine.
Esmeraldas is located on Ecuador's northern border with Colombia and many of the gangs slip back and forth across the border to escape the security forces.