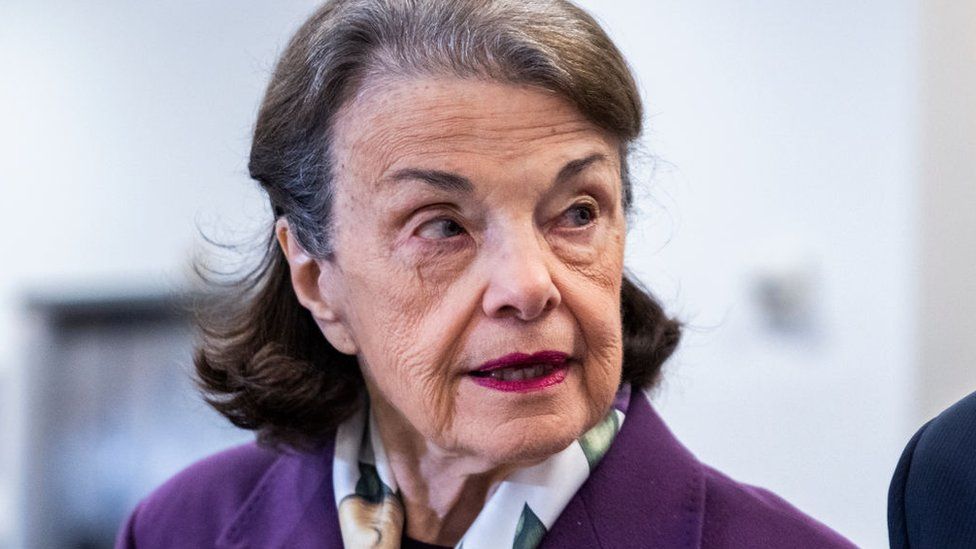 The oldest member of the US Senate has asked to temporarily step aside from a key committee after two colleagues urged her to resign.
California's Dianne Feinstein, 89, said her return to Washington had been delayed by complications from shingles.
She revealed last month she was in hospital with the condition.
Her absence has complicated President Joe Biden's efforts to confirm federal judges in the Senate, which has only a slim Democratic majority.
On Wednesday evening, Mrs Feinstein's office said she had asked the Senate to find a temporary replacement for her on the judiciary committee.
The statement was issued after two fellow Democrats, Ro Khanna and Dean Phillips, said earlier in the day that Mrs Feinstein was no longer fit to serve.
Mr Khanna, of California, wrote on Twitter that it was time for the longest-serving female senator to step down.
"We need to put the country ahead of personal loyalty," he said. "While she has had a lifetime of public service, it is obvious she can no longer fulfill her duties."
Mr Phillips tweeted that he agreed with Mr Khanna.
"I believe it's now a dereliction of duty to remain in the Senate and a dereliction of duty for those who agree to remain quiet," the Minnesota congressman said.
The statement from Mrs Feinstein's office said she had initially expected to return to Capitol Hill by the end of the March.
But because of "continued complications" with shingles, she said she would work from home in San Francisco until her medical team advised it was safe to travel.
Shingles is a virus that causes a painful rash, but is not typically life-threatening.
Mrs Feinstein announced in February that she would not be running for re-election in 2024.
On the judiciary committee, Democrats hold an 11-10 advantage. Multiple Democrats – Barbara Lee, Katie Porter and Adam Schiff – have already jumped into the race to succeed her.
Mrs Feinstein was the first female mayor of San Francisco and the first woman to head the Senate Intelligence Committee.