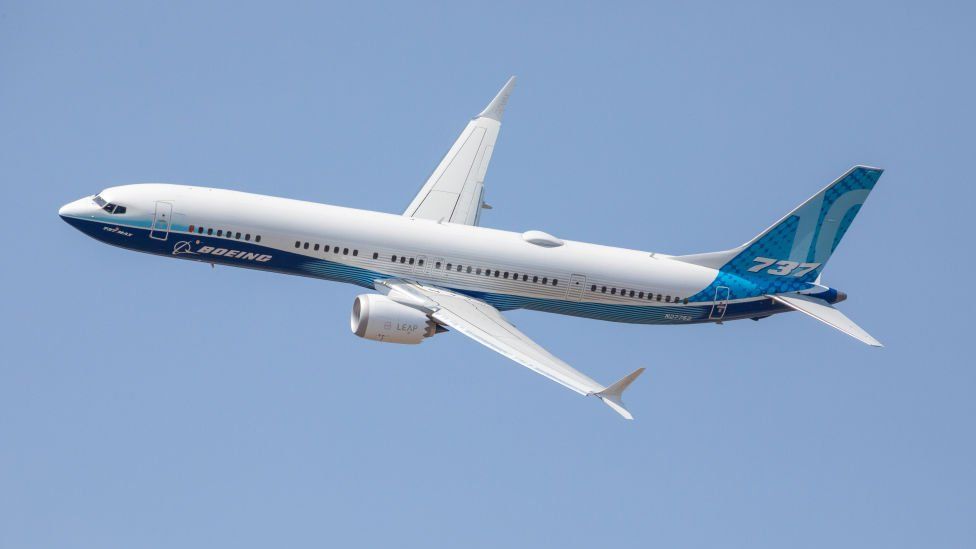 Boeing has said it faces delivery delays on a "significant number" of its 737 Max planes over a production issue.
The aviation giant said its supplier had said the installation of fittings on the rear of the plane did not follow the standard.
"This is not an immediate safety of flight issue and the in-service fleet can continue operating safely," according to the US-based plane-maker.
It is the latest problem for Boeing as the industry faces a shortage of jets.
The manufacturing problem affects 737 Max family of airplanes, including the Max 7, Max 8 and Max 8200 airplanes, in addition to is P-8 Poseidon maritime surveillance aircraft.
"We have notified the FAA of the issue and are working to conduct inspections and replace the non-conforming fittings where necessary," according to a company statement.
It has told customers that they should expect "lower near-term" deliveries until the required work is completed.
Shares in the company fell more than 5% in after-hours trade.
It is the latest delay of deliveries for the company.
Last month, US transportation regulators cleared Boeing to resume deliveries of its widebody 787 Dreamliner after a problem with its data analysis. The aeroplane maker had paused deliveries in February.
Demand for air travel has soared since Covid-19 restrictions have been lifted. Airlines worldwide are competing for resources to meet demand.
Boeing reported its airplane deliveries for new jetliners jumped in the first three months of 2023. Many of the new planes are the 737 Max model purchased by US carriers Southwest Airlines and United Airlines.
Boeing has been working to turn itself around after its 737 Max passenger jet was grounded worldwide for over a year after two fatal accidents that killed 346 people.
It later emerged that both accidents were triggered by design flaws in its flight control software.