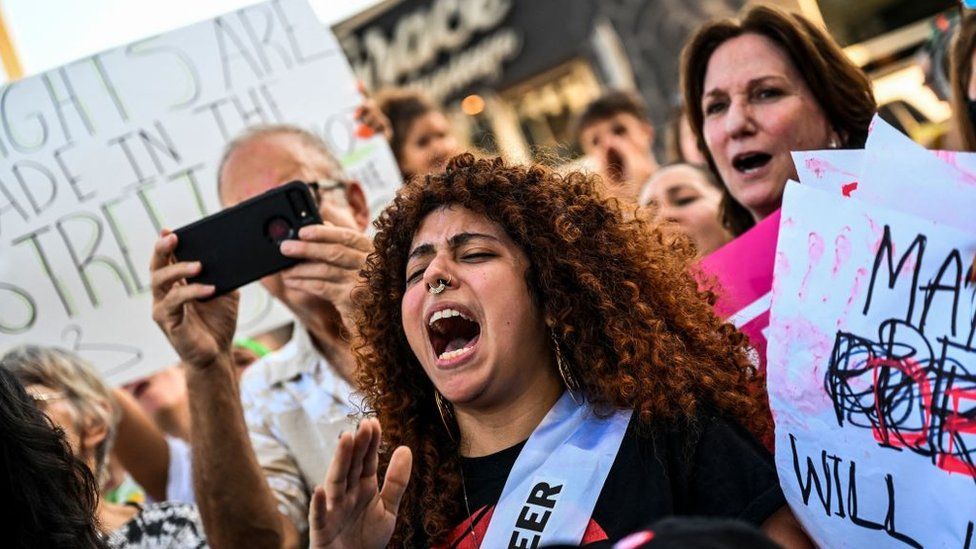 Florida's House of Representatives has approved a ban on most abortions after six weeks, paving the way for drastic changes in access to the procedure across the state.
The bill must be signed by Republican state Governor Ron DeSantis, who has indicated his support, before it becomes law.
Opponents argue six weeks is before many women know they are pregnant.
Florida currently prohibits abortion after 15 weeks.
The state has been a safe haven for those seeking abortion in the country's south-east since Roe v Wade – which gave women in the US the constitutional right to abortion – was overturned last year.
The state's current 15-week limit on abortion is one of the most lenient in the south-east, with many travelling from other states to Florida to have the procedure.
The six-week ban makes exceptions for abortions in cases of rape or incest, as long as the woman can provide documentation such as a police report or a restraining order.
Florida's Republican-led House approved the ban on Thursday, with 70 voting for and 40 voting against. It had been passed in the state Senate on 3 April.
"A woman's right to choose, I've heard people talk about that," Republican lawmaker Kiyan Michael said during the debate, as quoted by CNN. "Well, that right to choose begins before you have sex."
"Women's health and their personal right to choose is being stolen," Democratic lawmaker Felicia Simone Robinson argued, in comments cited by the Associated Press news agency.
The fate of the proposed six-week ban could be affected by an ongoing legal challenge to the existing 15-week ban.
National debate over abortion in the US has been raging since a federal judge suspended the original approval of a widely used abortion drug, mifepristone, last week.
That suspension was later blocked by an appellate court, and the Biden administration has said it will ask the Supreme court to restore full access to the drug.