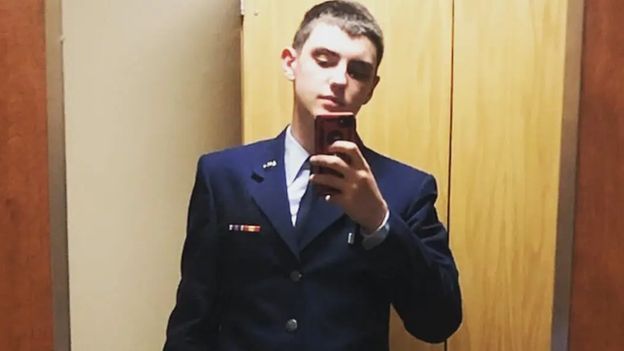 A 21-year-old US airman will appear in court on Friday in connection with the leak of highly classified military documents about the Ukraine war and other national security issues.
Jack Teixeira was arrested by the FBI at his family home in Dighton, rural Massachusetts, on Thursday. Dressed in shorts and a T-shirt, he was led away by heavily armed agents.
Mr Teixeira has been identified as the leader of an online chat group where the documents first emerged.
He is charged with the unauthorised removal and transmission of classified information. He will appear in court in Boston, Massachusetts later on Friday.
Dozens of leaked documents revealed US assessments of the war in Ukraine as well as sensitive secrets about American allies, embarrassing Washington and raising fresh questions over the security of classified information.
Mr Teixeira worked as an IT specialist in the intelligence wing of the Massachusetts National Guard, based at Otis Air National Guard Base in western Cape Cod. The National Guard is a reservist wing of the US Air Force. They are not employed full time in the military, but can be deployed when necessary.
Mr Texeira's official title is Cyber Transport Systems journeyman and he holds the rank of Airman 1st Class – a relatively junior position. According to the Air Force website, employment in the role requires a single scope background investigation (SSBI). That clearance is reportedly required for access to top secret information.
It was not until intelligence material was posted outside the chat room group that Pentagon officials became aware of the leak, prompting a massive search for the culprit. Aside from the age of the suspect, the motive is also thought to be unusual. While Mr Teixeira is said to have harboured a scepticism of government, friends said he was neither a whistleblower nor a foreign agent.
The Pentagon says it will re-examine how classified information is distributed, but a spokesman said it was "the nature" of the US military to entrust young service members with high levels of responsibility.
Footage of the arrest in Dighton, a town of 8,000 people about an hour south of Boston, shows a young man walking backwards with his hands raised to armed FBI officers. He was handcuffed and led to a vehicle.
US Attorney General Merrick Garland said the suspect was taken into custody without incident. He provided no further details on the investigation or the motive for the leaks. At a separate news conference earlier in the day, defence department spokesman Brigadier General Pat Ryder said the leak had been a "deliberate criminal act".