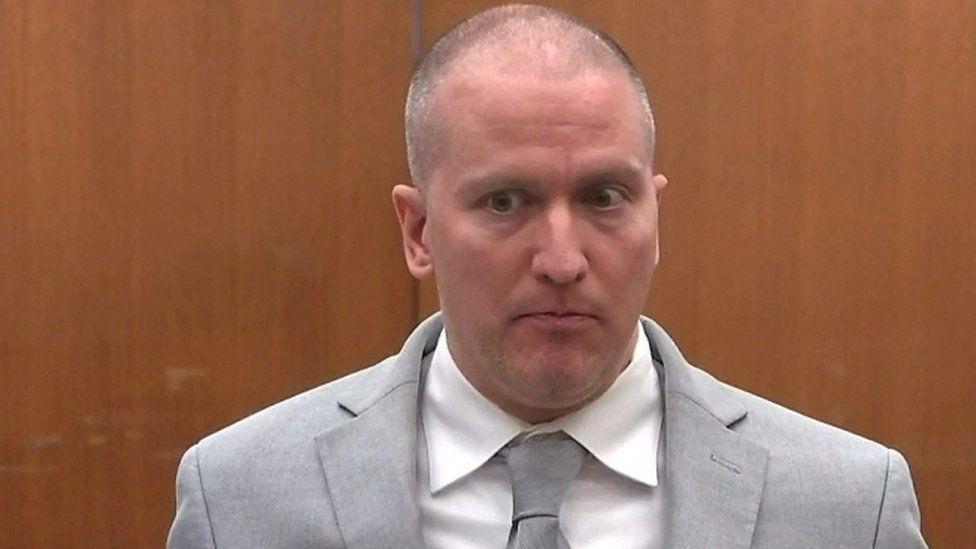 Minneapolis has agreed to pay nearly $9m to settle lawsuits filed by two black residents against Derek Chauvin.
Both residents, who were arrested in 2017, said Chauvin had pressed his knee into their necks – the same tactic that killed George Floyd three years later.
Minneapolis Mayor Jacob Frey apologised to all the victims. He said if supervisors had fired Chauvin six years ago, Floyd would be alive.
Minneapolis City Council announced during a meeting that John Pope Jr would receive $7.5m and Zoya Code would get $1.375m. Both lawsuits alleged police misconduct, excessive force and racism by Chauvin and other officers.
Charges against both residents, one of whom was 14 at the time of his arrest, were eventually dropped.
Police Chief Brian O'Hara told a press conference on Thursday that Chauvin was "a national embarrassment" to police.
Mr O'Hara said that while the department typically recycles officer badges, Chauvin's badge will be destroyed and his badge number – 1087 – permanently removed from their system.
Mr Pope was arrested when Chauvin responded to a domestic assault report.
His lawsuit says his drunk mother called police after arguing with Mr Pope and his teenage sister for leaving their mobile phones plugged in.
It goes on to say that Chauvin struck Mr Pope in the head with a metal torch four times and kept him in a prone position. No other officers on the scene intervened.
The lawsuit by Ms Code says Chauvin pinned his knee to her neck for four minutes and 41 seconds as she was arrested in June 2017 for allegedly trying to strangle her mother.
Minneapolis paid the Floyd family $27m in 2021 after reaching a settlement.
Chauvin is currently serving 22 years in prison for murdering Floyd and violating his civil rights after kneeling on his neck area for nine and a half minutes.