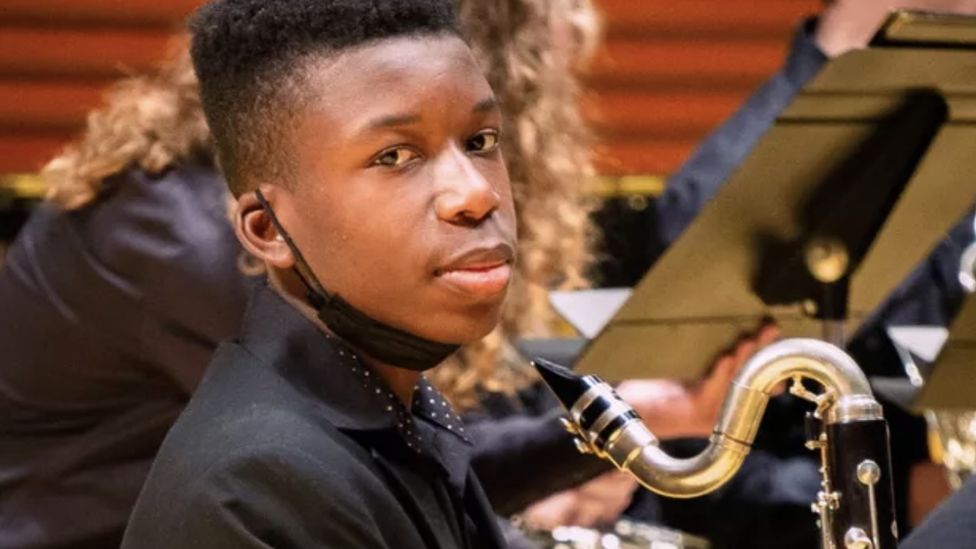 Protests erupted in Kansas City, Missouri, over the weekend after a homeowner shot a black teenager twice who rang their doorbell by mistake.
Ralph Yarl, 16, was sent by his parents to pick up his brothers from a friend's house on 13 April, but went to the wrong address.
The suspect shot Mr Yarl through his door. The teen took one shot in the head, say his family and their lawyers.
Police have released the shooter from custody but not identified them.
Mr Yarl was released from hospital on Sunday and is recovering at home with his family, his father Paul Yarl told the Kansas City Star. "He continues to improve," his father told the paper. "He is responsive and is making good progress."
Prominent civil rights lawyers Ben Crump and Lee Merritt are representing Mr Yarl's family in the case. They criticised officials for releasing the suspect, who they say is a white male.
"You can't just shoot people without having justification when somebody comes knocking on your door – and knocking on your door is not justification. This guy should be charged," Mr Crump said.
The suspect was taken to police headquarters to provide a statement before being released. In Missouri, a person taken into custody for a felony investigation must be released or charged within 24 hours.
Investigators are looking into whether or not the suspect is protected by the state's Stand-Your-Ground laws, which grant people permission to use deadly force if they feel seriously in danger. Critics say such laws facilitate violence against black people.
"I do recognise the racial components of this case," Kansas City Police Chief Stacey Graves said. "I do recognise and understand the community's concern and the community's response to this particular incident."
On Sunday hundreds of protesters gathered near the house where the shooting happened, chanting "black lives matter" and "justice for Ralph".
"This was not an 'error', this was a hate crime," Mr Yarl's aunt, Faith Spoonmore, told the Kansas City Defender. "You don't shoot a child in the head because he rang your doorbell. The fact that the police said it was an 'error' is why America is the way it is."
Ms Spoonmore set up a GoFundMe page to raise money for her nephew's care. According to the page, Mr Yarl meant to pick up his brothers at an address on 115th Terrace but wound up on 115th Street.
The page says, "My nephew fell to the ground, and the man shot him again. Ralph was then able to get up and run to the neighbour's house, looking for help."
The GoFundMe page also describes the teen as "one of the top bass clarinet players in Missouri", one who "plays multiple instruments in the metropolitan youth orchestra". The page had raised $1.5m as of Monday afternoon local time.
Celebrities like Halle Berry, Kerry Washington and Jennifer Hudson have taken to social media demanding justice and voicing their support for the Yarl family.