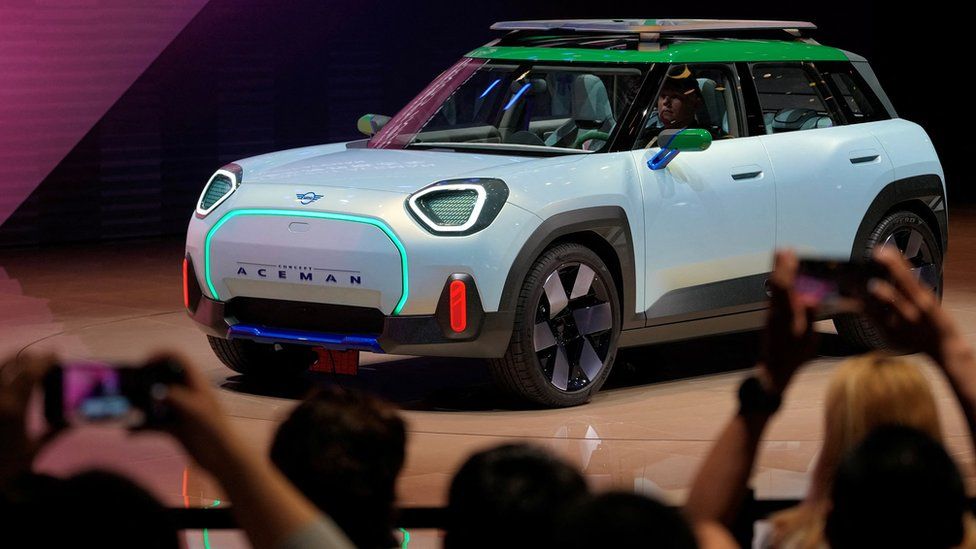 UK-based carmaker Mini has responded to an internet uproar in China accusing it of racism at the Shanghai Auto Show.
A video from the event appeared to show Mini staff offering ice cream to foreigners while refusing to give it to Chinese visitors.
Mini China, which is owned by Germany's BMW, said the workers were distributing the treats to company employees.
However, it also said that it was "deeply sorry for the negative mood the incident brought on everyone".
In a statement posted on Chinese social media platform Weibo, Mini China said it had given out a total of 600 ice creams during show on 18 and 19 April.
"In addition to distributing 300 portions of ice cream per day, we also reserved a very small portion for our hardworking colleagues on-site," Mini China said. "The four to five foreigners you see in the video are colleagues who are wearing employee badges," it added.
The company also said the incident resulted from lapses in management and training, and called for consideration towards staff in the video.
In an earlier statement, Mini China said the giveaway was "intended to give sweetness to friends big and small".
The topic "BMW Mini" quickly became one of the top searches on Weibo, with over 93 million views.
The comments were largely negative. "You should have specified that the initial purpose was to give 'foreign' big and small friends sweetness," said a post that drew more than 165,000 likes.
"I feel ashamed as a Mini owner," said another user.
The incident spurred one vlogger to give out ice cream in front of Mini's auto show booth.
"I was just angry, and I only gave it to Chinese people," he told Chinese media outlet Jimu News.
However, other social media users called for calm. "Let's treat this reasonable. No matter what type of explanation [Mini gives], there are always going to be people who disagree," said a post that drew several negative reactions.
"We shouldn't excessively magnify a problem to become a question of principle or an ideological issue," wrote Hu Xijin, the former editor-in-chief of state-owned newspaper Global Times.
"Let the staff learn their lessons and let their future events return to normal as much as possible. Let's avoid other vendors getting nervous because of this," he added.
Internet users in China have become increasingly vocal about the depiction of Chinese people amid rising nationalist sentiment online.
Last week, French luxury label Dior was also accused of racism on Chinese social media over an advertisement showing an Asian model pulling up the corner of her eye. The picture, promoting Dior's new makeup collection, was swiftly taken down.