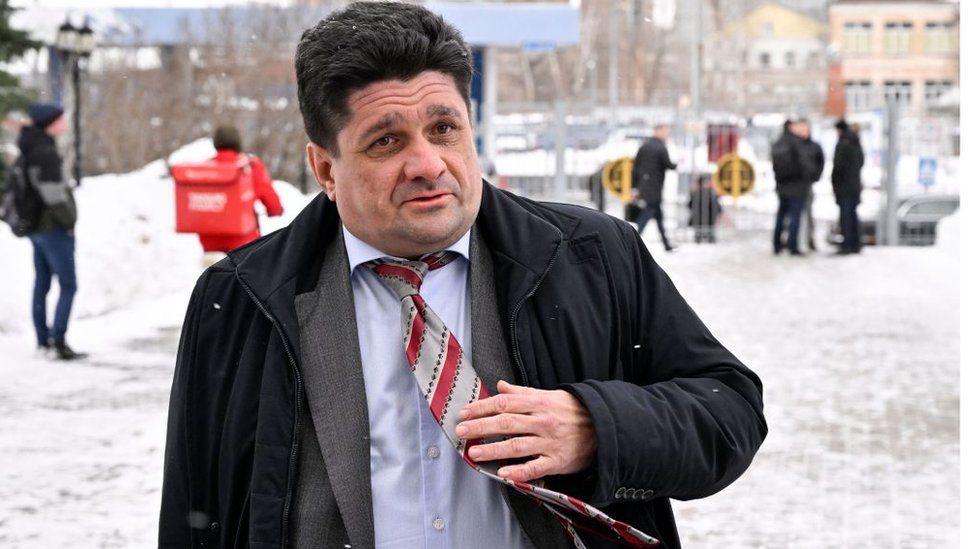 A lawyer for Russian opposition activist Vladimir Kara-Murza, who was jailed for 25 years this week, says he had to flee Russia before the verdict.
Vadim Prokhorov said he decided to go after receiving a warning there was "interest" in him.
Meanwhile, it has emerged an interior ministry driver is facing a long jail term for spreading "fake news" about the war in a personal phone call. Sergei Klokov's phone was tapped a few weeks after Russia's invasion of Ukraine and he was detained in March 2022.
He reportedly told a friend over the phone: "We think we are fighting fascism, but there isn't fascism there. There isn't."
The state prosecutor has asked the court to give him a nine-year jail term. Mr Klokov's lawyer argues any comments his client made were in private conversations and therefore cannot be considered an attempt to disseminate information to the wider public.
Russia's attempts to silence criticism of its invasion of Ukraine continue to yield harsh consequences.
Last Monday, a judge in Moscow gave Russian-British former journalist and politician Vladimir Kara-Murza 25 years in jail, after finding him guilty of treason, spreading "false" information about the Russian army and being affiliated with an "undesirable organisation".
Kara-Murza has repeatedly denied all the charges. He has nearly died twice after being poisoned, but refused to leave Russia despite the growing risk to Kremlin critics.
Mr Prokhorov explained to US broadcaster Voice of America that he had decided to leave Russia after receiving "a warning through one politician that there was interest from at least one deputy prosecutor-general who was overseeing our case".
"Both the prosecutor and the trial judge said it was necessary not only to remove me from the Chamber of Lawyers but also to consider opening a criminal case," he explained. "Right now in Russia, an attack is being waged not only against journalists – just as there was previously against [opposition] politicians – but also against lawyers. Several of my colleagues are already in detention," he added.
Mr Prokhorov has previously defended prominent opposition politician Ilya Yashin and anti-corruption campaigner Alexei Navalny.
Yashin lost his appeal against an eight-and-a-half year jail term on Wednesday, also on a charge of spreading false news about the army. He was found guilty of making statements about war crimes alleged to have been committed by Russian forces in the town of Bucha outside Kyiv.