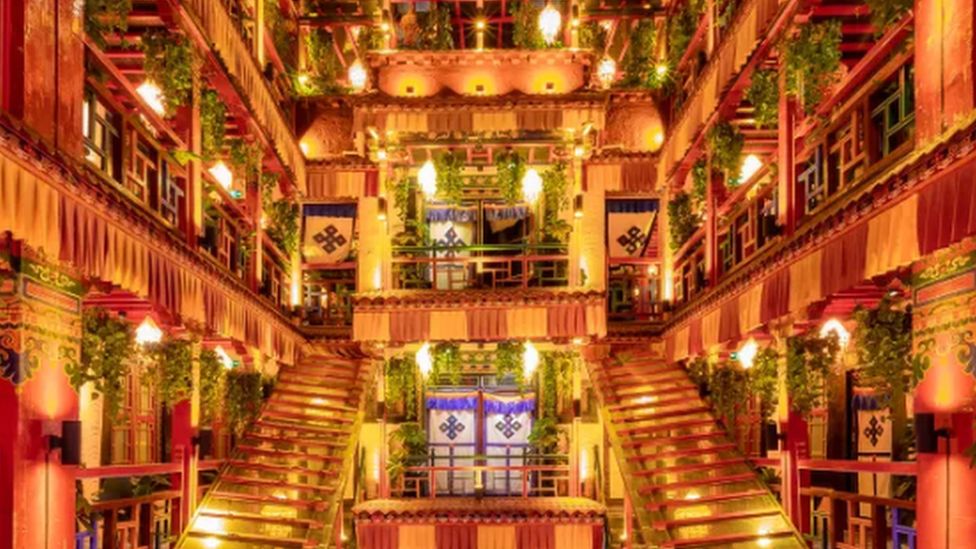 A Chinese man's harrowing ordeal at a Tibetan hotel, where a corpse was found under his bed, has led to a murder investigation and a suspect's arrest.
The man noticed a "strong" smell when he checked into his hotel in Lhasa on 21 April. After he moved to a different room, a body was discovered under the bed he had slept on for three hours.
Later that night, police told him they had arrested a person in connection with the case. The man, identified in local media only as Mr Zhang, later told Shangyou News that he left Lhasa the next day.
With its warm lights and wooden balconies, Guzang Shuhua Inn, where Mr Zhang stayed, is a so-called influencer hotel, popular on social media as an ideal spot for photos.
Mr Zhang posted a review of his stay online, but it didn't attract much attention until another user shared a screengrab of the review on social media on 28 April. The hotel responded to this post, denying the incident altogether.
Mr Zhang then shared his experience on Weibo, and included a receipt as evidence of his stay. This drew the attention of local media, who soon contacted him for an interview.
"I am very scared and I am still struggling to sleep," he told Shangyou News in an interview on 30 April.
He said once he checked into the room, he rested for a few hours, even sleeping on the bed, before going out around 15:30 local time.
He returned a few hours later to change for dinner. He again noticed the smell, but assumed it might be coming from the bakery downstairs, or the result of the room's heating system. He wondered if his feet were the problem. But when he returned after dinner, the smell was so bad that he asked to be moved to a different room.
Late into the night, hotel staff knocked on Mr Zhang's door and asked him to come downstairs to the room he had vacated.
Police were waiting there to record his statement, and collect his DNA sample. He says they told him not to worry because they had already arrested someone as part of their investigation.
The police have not disclosed any more details about the case, but they released a video of the suspect being arrested on a train to Lanzhou city, which is located in another province.
Mr Zhang said he had been reluctant to publicise his experience, but was forced to because of the hotel's denial and accusations on social media that he had made up the incident. His posts describing what happened have since sparked thousands of comments, and tens of thousands of reactions.