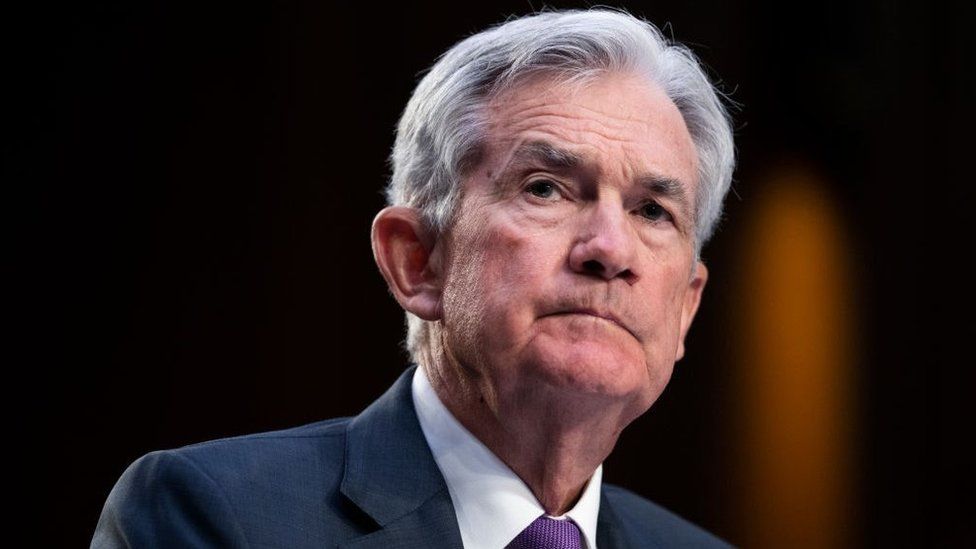 The US central bank has raised interest rates to the highest level in 16 years as it battles to stabilise prices.
The Federal Reserve increased its key interest rate by 0.25 percentage points – its 10th hike in 14 months.
The Fed signalled that Wednesday's rise may be its last one for now.
The moves have pushed its benchmark rate to between 5% and 5.25% – up from near zero in March 2022.
Higher rates have sharply raised borrowing costs across the world's largest economy, spurring a slowdown in sectors such as housing and playing a role in the recent failures of three US banks.
"We're no longer saying that we anticipate" additional interest rate increases, Federal Reserve chair Jerome Powell said at a press conference after the announcement, calling it a "significant change".
However, he refused to rule out further action, saying: "We'll be driven by incoming data."
The bank started raising interest rates aggressively last year when prices in the US were soaring at the fastest pace in decades. Central banks around the world, have taken similar action.
Higher interest rates make it more expensive to buy a home, borrow to expand a business or take on other debt. By increasing those costs, officials expect demand to fall and prices to cool off.
Since the Fed started its campaign, price increases in the US have shown signs of moderating.
In March, inflation, the rate at which prices rise, stood at 5% – the lowest level in nearly two years – though still uncomfortably high for the Fed, which is targeting a 2% rate.
The recent bank failures, and an anticipated pullback in lending as a result, are likely to weigh on the economy, Mr Powell said. But he added that he remained hopeful that the US would avoid a recession, noting that hiring has remained strong and unemployment low.
"I continue to think that it's possible…that this time is really different," he said.
The Fed's decision to raise rates on Wednesday was unanimous and widely expected by financial markets, which are looking for clues as to what the bank may do next.
In a written statement, the bank scrapped previous guidance it provided in March when it said "some additional policy firming may be appropriate" to bring inflation under control.
In the press conference, Mr Powell said the bank was "getting close or maybe even there" when it came to pausing its rate-hike campaign but was prepared to do more if warranted.