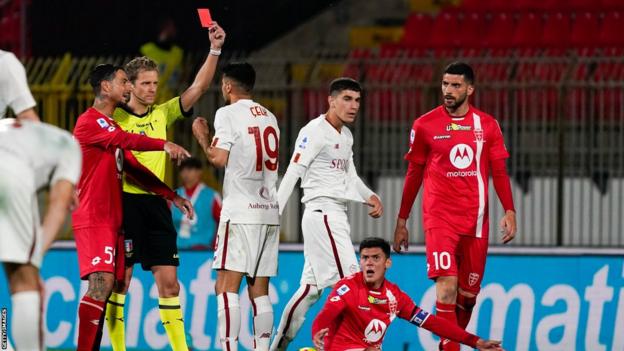 Roma boss Jose Mourinho says he wore a microphone to "protect" himself against "the worst referee I have met in my life" during his side's 1-1 draw with Monza on Wednesday.
Mourinho criticised referee Daniele Chiffi after he sent off Roma's Mehmet Zeki Celik in the 96th minute.
He has received three red cards this season for disputes with officials, including one from Chiffi in September.
"I went to the game with a microphone. I recorded everything," Mourinho said. "From the moment I left the locker room, to the moment I returned – I protected myself.
"He [Cheffi] is the worst. Technically he's horrible. Zero empathy. Zero communication. Zero awareness.
"A second yellow to a guy who slips in the 96th minute… I stopped working 20-30 minutes from the end because I knew he would give me a red card for anything. "I didn't give him the opportunity, I decided no, that's enough."
Stephan El Shaarawy's opening goal was cancelled out by Monza's Luca Caldirola with the result leaving Roma seventh in Serie A and outside the European qualification places on goal difference.
"Believe me, I have dealt with many bad referees," said Mourinho. "Usually, when I talk about referees, it is because they have a direct influence on the game.
"He is horrible, he makes no human connection with anyone, he has no empathy, he gives a red card to a player who slips because he is exhausted at the 96th minute.
"Unfortunately, this too is a sign of Roma's weakness as a club, because we do not have the strength of other clubs who can say we don't want this referee."
Mourinho threatened to take legal action after suggesting the fourth official in Roma's 2-1 defeat by Cremonese in February spoke to him in an "unjustifiable way". The 60-year-old was sent off and received a two-match ban for the altercation.