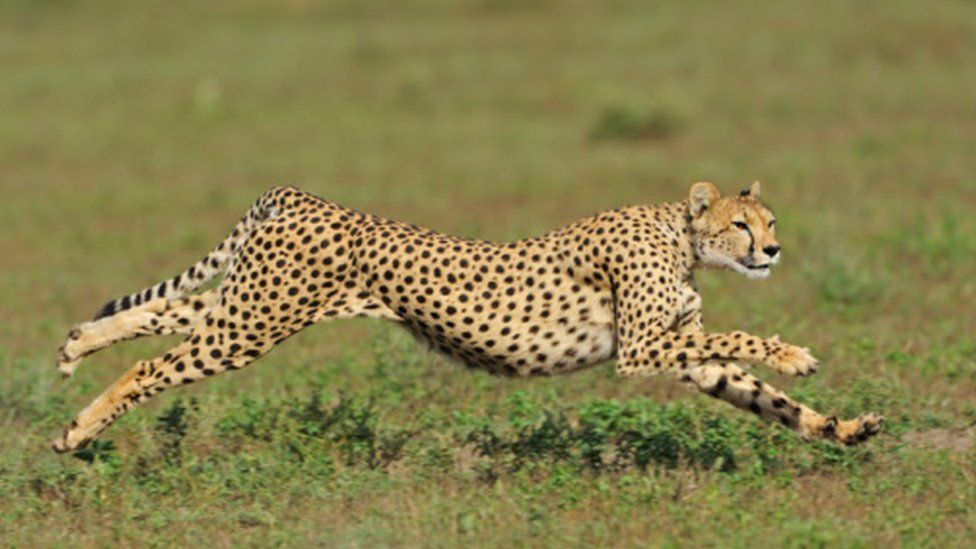 A female cheetah has died in Kuno National Park in India's Madhya Pradesh state, taking the number of the big cats found dead to three since March.
The female was found injured on Tuesday morning and treated by vets but died at noon, the park said in a statement.
Preliminary reports showed she died from injuries sustained during mating with two male cheetahs, it added.
All three were sent from South Africa earlier this year as part of efforts to reintroduce cheetahs to India.
The female cheetah that died on Tuesday was named Daksha. She was housed in an enclosure next to where the two males – named Agni and Vayu – were kept.
"Indian and South African wildlife officials and experts held a meeting on 30 April where it was decided to let Daksha meet the two males and a day later, the gate between their enclosures was opened," the statement said.
The male cheetahs entered the female's enclosure on 6 May.
"It's normal for male cheetahs to behave violently with the female during mating and it's impossible for the monitoring team to interfere with the cats at that time," the statement added.
India reintroduced cheetahs last year, more than 70 years after the animal was declared extinct in the country.
The reintroduction of cheetahs in the country has generated excitement and any news related to them has been making headlines.
Last month, a male cheetah called Uday died and officials said the cause of death was cardiac failure. He was one of 12 big cats brought to India from South Africa in February.
On 27 March, a female cheetah which was in the first batch of animals brought from Namibia died of a suspected kidney ailment. She was part of a group of eight – five males and three females – which were translocated to India last year amid fanfare.
On arrival, the cats were kept in a controlled quarantine zone at Kuno before being released into the wild. Their movements are being tracked and monitored. On 29 March, one of the Namibian females gave birth to four cubs.
Cheetahs have great symbolic value in India as they are part of many folktales. But it is also the only large mammal to become extinct since independence in 1947 because of hunting, shrinking habitats and lack of prey.