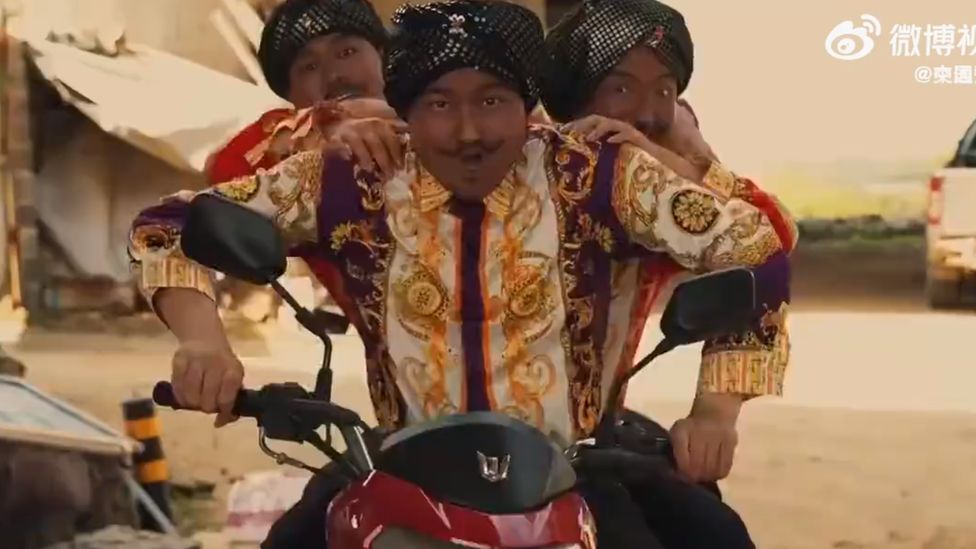 A Chinese government ministry appears to have taken down an online video post which featured people in brownface singing an Indian song.
The video, by a popular influencer, had been shared by an official account under the Ministry of Public Security (MPS) to promote road safety. The post drew criticism outside of the country.
It follows other racism controversies in China, where brownface and similar concepts are unfamiliar to many.
Brownface – like blackface – involves people painting their faces darker, and is condemned in much of the world as a racist caricature.
The video was created by Hao Ge Ge, an influencer with a big following on Douyin, the country's domestic version of TikTok. It has been liked more than 1.2 million times on the short video platform.
It features men in brownface wearing turbans, as well as several women in what appear to be south or central Asian costumes. Divided into two groups, they sing the Indian song Tunak Tunak Tun, with Chinese lyrics debating whose vehicle is better.
The Bureau of Public Order – which comes under the MPS – shared the video last week with its more than 32 million followers on Weibo, a Twitter-like platform.
"Reminder from the police: You should fasten your seat belt even when you are sitting at the back of a car. Always remember when you ride a motorbike, don't hit the road without a helmet!" said the post.
It drew hundreds of shares and mainly positive comments within China. "This is effective law popularisation," said one comment.
But there was criticism elsewhere. Aadil Brar, a columnist for The Print India, wrote on Twitter: "They are very much mocking India, Bollywood and Indians."
Some Chinese commenters had warned of a possible backlash, with one saying: "This will definitely cause trouble if you put it up in India, they won't find it humorous."
Other lower-level Chinese police agencies also shared the video on Weibo, but these posts – along with the original – are no longer visible on their feeds.
In 2018, a skit on China's biggest Lunar New Year TV show sparked widespread criticism after a Chinese actress appeared in blackface and with exaggerated buttocks.