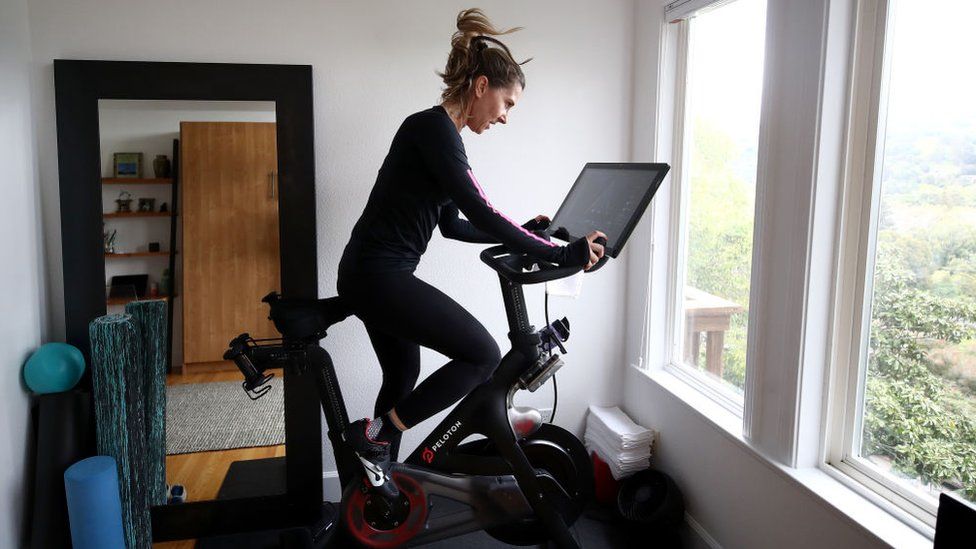 Peloton is recalling more than two million exercise bikes over concerns that the seat assembly could break during use and injure customers.
Owners have been advised to immediately stop using the bikes and contact Peloton for a free repair.
The company has received numerous reports of injuries including "a fractured wrist and lacerations" after the bike's seat detached during use.
The recall applies to bikes sold in the US from January 2018 through May 2023.
The US government's Consumer Product Safety Commission issued the recall on Thursday alerting owners to injury risks associated with bike model number PL-01.
Peloton issued a statement saying it has identified 35 reports of "seat posts breaking" out of the 2,160,000 bikes sold as of 30 April.
"As part of our commitment to product safety, we are voluntarily recalling the seat post of affected units to provide a free replacement seat post," the company said.
Peloton said members who purchased a bike in the UK, Germany and Australia are not impacted by the recall. The company is in talks with Canadian regulators and will issue an update to Canadian customers "within the coming days."
Peloton bikes soared in popularity during the pandemic after gyms closed to curb the spread of Covid-19. A basic Peloton bike starts at $1,445, according to the company's website.
But the at-home exercise retailer has weathered controversy over the years. News of the latest voluntary recall sent the company's stock plunging by more than 8% on Thursday.
In 2019, the company came under fire for an ad campaign featuring a husband gifting his wife with an exercise bike for the Holidays.
"A year ago, I didn't realise how much this would change me," the woman says in the ad before documenting her exercise journey. Critics on social media labelled the campaign "sexist" and even "dystopian" and the backlash sent the company's stock plunging.
A year later, the company recalled its treadmill model after a child died and more than 70 people reported injuries.
Then, in a shocking twist, Mr Big, a fan-favourite character on the HBO series Sex and the City, died suddenly from a heart attack after riding a Peloton bike. The news devastated both fans and the company's share price, which fell more than 75% in 2021, according to CNN.
Later that year, Peloton CEO and co-founder John Foley resigned as the company struggled to turn business around as its pandemic popularity faded.