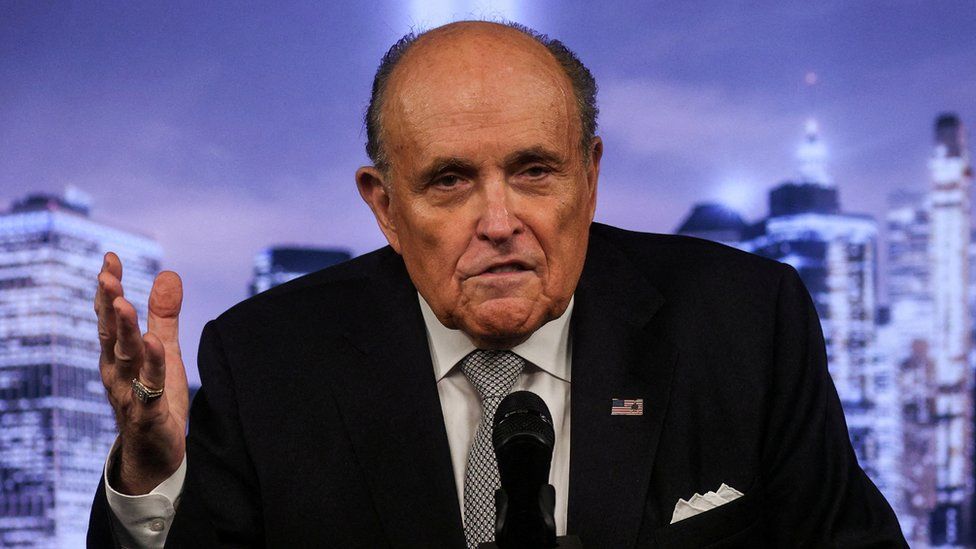 Donald Trump's former lawyer Rudy Giuliani is being sued for sexual harassment by an ex-employee.
The $10m civil case claims he coerced her into sex acts, making her work naked, and launched into "alcohol-drenched" and racist rants at work.
It claims he frequently exposed himself, took Viagra "constantly" and told Noelle Dunphy satisfying his sexual demands was a job requirement.
Mr Giuliani "vehemently" denied the allegations though a spokesperson.
Ms Dunphy, who says she was hired by Mr Giuliani's firm in 2019 when he was working as Mr Trump's personal lawyer, filed the legal case in New York state on Monday.
The lawsuit, which sets out her allegations in graphic detail, says Mr Giuliani began to abuse her almost immediately after being hired and made it clear that satisfying his sexual demands was an "absolute requirement of her employment".
The lawsuit says the former New York City mayor coerced Ms Dunphy into giving him oral sex "against her will" in his flat.
It claims Mr Giuliani "often demanded that she work naked, in a bikini, or in short shorts with an American flag on them that he bought for her" and would visibly touch himself while on video conference calls.
Ms Dunphy's case alleges he would frequently take the erectile dysfunction medication Viagra and expose himself to her.
The lawsuit says Ms Dunphy made recordings of conversations with Mr Giuliani, which included sexual comments and demands for sex, as well as racist, sexist and antisemitic remarks.
Ms Dunphy is also suing for wage theft, claiming Mr Giuliani refused to pay her a promised $1m salary for the role as it would need to be deferred while his divorce was completed.
A spokesperson for Mr Giuliani said he "vehemently and completely denies the allegations", describing the claims as "pure harassment and an attempt at extortion".
"Mayor Giuliani's lifetime of public service speaks for itself, and he will pursue all available remedies and counterclaims," said Mr Giuliani's communications adviser, Ted Goodman, as quoted by The Associated Press.