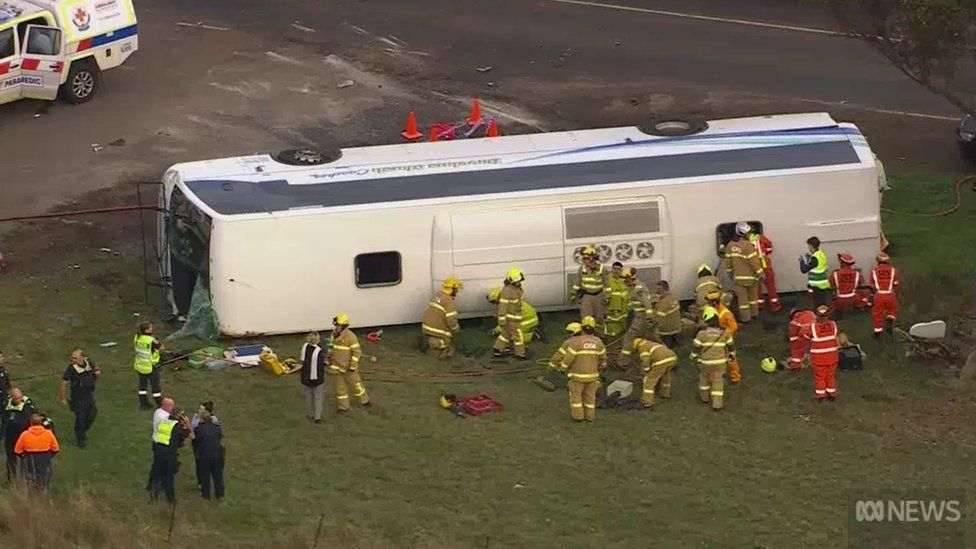 A group of primary school children has suffered traumatic, "life-changing" injuries after a horrific bus crash in Melbourne, Australia.
The bus was carrying 45 students when police say it was hit by a truck from behind and rolled on Tuesday afternoon.
Some 18 children, aged 5 to 11 – were rushed to hospital, many for emergency surgery. One remains in intensive care.
The truck driver has been charged with dangerous driving causing serious injury.
Australia has a below-average road safety record compared to other advanced economies. It ranks 20th of out of 36 OECD countries for road fatalities.
Police said the bus had only just left Exford Primary School, on the western fringes of Melbourne, when the collision occurred.
Children were trapped inside the bus before bystanders – including the truck driver and many of their teachers, who had rushed to the scene – helped emergency responders to free them from the wreckage.
Surgeons worked into the early hours of the morning to treat those children seriously hurt. Their injuries included crushed limbs – forcing amputations – as well as head injuries, spinal injuries and serious cuts.
Seven children remain at the hospital in serious conditions, including one in intensive care, the Royal Children's Hospital said.
"It is just distressing, knowing what our kids have been through and I can just imagine their fear," principal Lisa Campo told media on Wednesday.
The 52-year-old bus driver was also taken to hospital with non-life-threatening injuries.
Prime Minister Anthony Albanese was among those who thanked first responders and sent well-wishes to the families involved.
"Any accident is just horrific, the fact that it involves school students just breaks your heart," he said.
Superintendent Michael Cruse said the scene of the crash was extremely confronting for all who were there.
"Some of the injuries are life changing [and] this incident was avoidable," he said.
The 49-year-old truck driver, who suffered minor injuries – has since been charged with four counts of dangerous driving. Investigations are ongoing, but Supt Cruse said "inattention" would be a key focus, and more charges are likely to be laid.