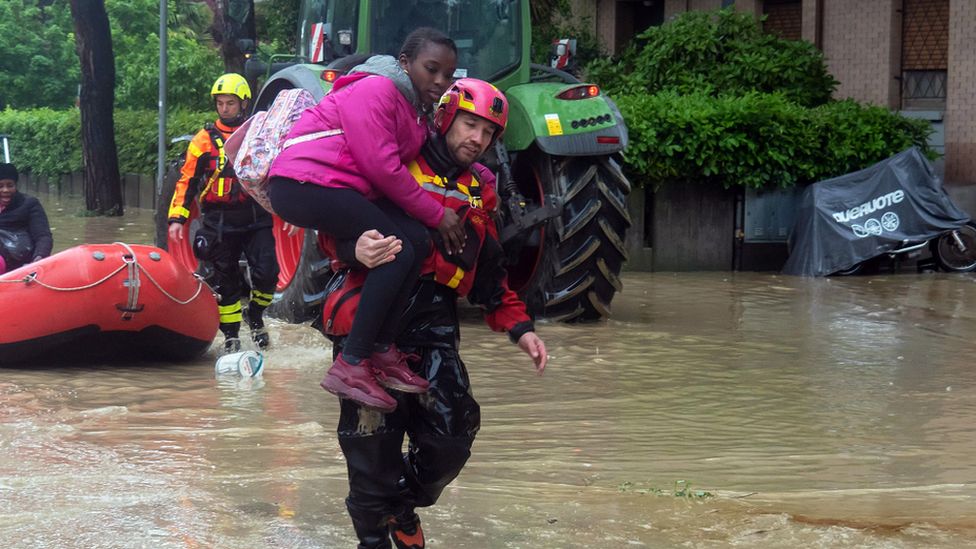 Nine people have been killed and several are missing after heavy rains caused flooding in Italy's northern Emilia-Romagna region, officials say.
About 10,000 people have been evacuated, and some had to be rescued from roofs by helicopter.
The authorities say 14 rivers have broken their banks, flooding 23 towns. The mayor of Ravenna says his city is now "unrecognisable".
The Emilia-Romagna F1 Grand Prix this weekend has now been cancelled. Discussions on Wednesday between local authorities and organisers of the race at Imola concluded that the event could not go ahead.
Further rain is expected in the region over the coming days.
"It's probably been the worst night in the history of Romagna," Ravenna Mayor Michele de Pascale told Italy's RAI public broadcaster. "Ravenna is unrecognisable for the damage it has suffered."
The mayor of nearby Forli, Gian Luca Zattini, said his city was "on its knees, devastated and in pain", AFP news agency reported.
In the city of Cesena, residents climbed on the rooftops and waited to be rescued by helicopter or boat.
Confirming nine people had died in the flooding on Wednesday, Regional President Stefano Bonaccini said there had been hundreds of landslides leading to roads in the region being cut off.
In an earlier Facebook post, he urged residents not go near the rivers and advised people who live in nearby them to move to higher floors.
Italian Prime Minister Giorgia Meloni chaired a crisis meeting with civil protection officials and later thanked rescuers who had risked their own lives to help the victims.
Teams of volunteers have arrived to assist local emergency services on the ground in the Emilia-Romagna region.