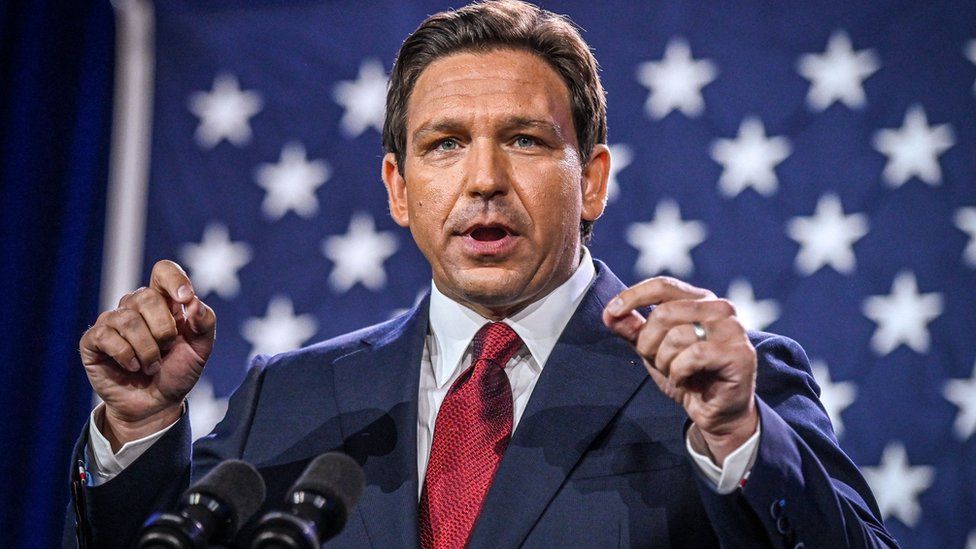 Florida Governor Ron DeSantis has signed bills banning children from undergoing transgender medical treatments or going to drag shows, and restricting pronoun use in classrooms.
Public bathrooms and changing rooms must also be separate "based on biological sex" under the legislation.
He said the laws would make the state a "refuge of sanity". Critics called the measures "mean spirited".
The Republican governor is expected to enter the 2024 White House race soon.
Hundreds of similar regulations on LGBT issues have been proposed in conservative-run states across the US.
But Mr DeSantis' prospects as a presidential contender have turned all eyes on the Sunshine State. He is widely expected to declare his candidacy as soon as next week.
"We need to let our kids just be kids," Mr DeSantis said as he signed the five bills on Wednesday at the evangelical Cambridge Christian School in Tampa.
"What we've said in Florida is we are going to remain a refuge of sanity and a citadel of normalcy."
The legislation bans transgender-identifying children from accessing such treatments as puberty blockers or hormone therapy.
While the laws are dubbed the Let Kids Be Kids package, one measure also places new restrictions on adults seeking transgender medical treatment.
Such patients must now obtain written consent on a form adopted by two oversight boards whose members are appointed by the governor.
Another of the laws bans school employees from telling students their preferred pronouns, or asking students about their preferred pronouns.
Mr DeSantis said: "We never did this through all of human history until like two weeks ago. They're having third graders declare pronouns? We're not doing the pronoun Olympics in Florida."
The governor also signed into law a bill requiring all bathrooms or locker rooms at public facilities – from schools to prisons – to be used exclusively for men and women "based on their biological sex".
Another of the laws, titled Protecting Children's Innocence, grants the state the power to strip businesses of their licences if they allow children into "adult live performances", such as drag shows.
Transgender medical treatments are endorsed by major medical associations as appropriate and even life-saving care for people diagnosed with gender dysphoria.
The World Professional Association for Transgender Health (WPATH) said the Florida bills would have "a chilling effect on the medical community by inserting politics into healthcare".
But many conservatives and some detransitioners – those who stop or seek to reverse a gender transition – have spoken out against the prevailing medical consensus, labelling such procedures as child abuse or chemical castration.
Democrats lashed out at the legislation in Florida. "Every other parent has the right to raise their child the way that they want to as long as your child is not gay, trans, bisexual," Democratic state Senator Shevrin Jones, who is gay, told the Associated Press news agency.
"That's freedom for some parents but not for all parents."
Another Democratic state Senator, Victor Torres, said the bills were "mean spirited, unnecessary".
Former President Donald Trump is currently leading in the race for next year's Republican presidential nomination, with Mr DeSantis in second spot more than 36 points behind, according to the Real Clear Politics opinion polling average.
The winner will challenge President Joe Biden, a Democrat, in the election of November 2024.