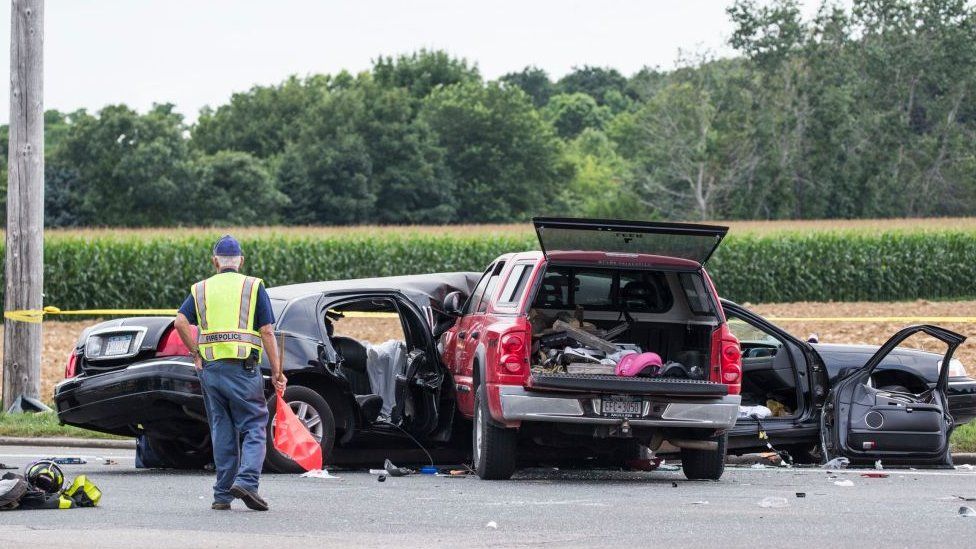 A limousine operator in New York has been convicted of manslaughter for a 2018 wreck that killed 20 people.
Nauman Hussain, 33, the former service manager for Prestige Limousine, now faces up to 15 years in prison.
Prosecutors said Hussain failed to conduct routine inspections on the stretch-style 2001 Ford Excursion. His lawyers blamed mechanics for the crash.
It was America's deadliest transport crash since 2009, officials said at the time.
The collision killed 17 people who were going to a surprise 30th birthday party, the driver and two bystanders.
Applause broke out in court after the jury's sentence was delivered on Wednesday, according to CBS News.
Kevin Cushing, who lost his son Patrick Cushing in the crash, told AP news agency: "I'm certainly glad he's convicted and I believe he's getting a punishment that he deserves, but I take no joy in that."
Defence lawyer Lee Kindlon said his client, who is due to be sentenced on 31 May, was "heartbroken" by the outcome.
The crash took place on 6 October 2018 in the upstate New York village of Schoharie.
Witnesses described seeing the limousine shoot across a junction and hit another car before ploughing into people in a shop car park. Among those killed were four sisters from the same family.
A 2020 report by the National Transportation Safety Board determined that the brakes had failed on the vehicle, and that it rolled downhill, eventually reaching speeds of 100mph (160km/h).
The car had been made by chopping two cars apart and welding them back together in order to extend the carriage.
The driver was not licensed to operate such a large vehicle.