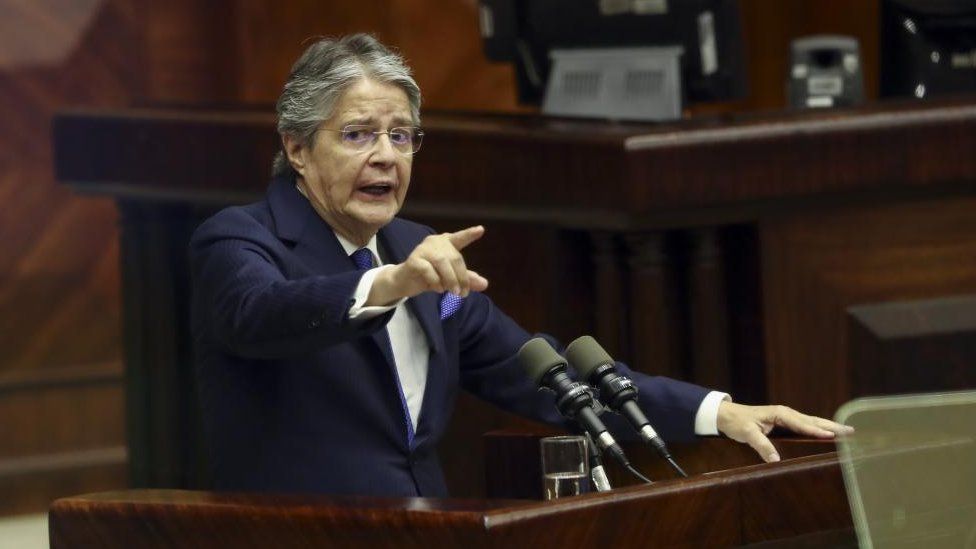 Ecuadorean President Guillermo Lasso has dissolved the opposition-controlled parliament amid an impeachment trial. He had been accused of turning a blind eye to alleged embezzlement and was facing an imminent vote that could have ousted him from office.
Mr Lasso, a conservative, said the charges were politically motivated. He will now have up to six months to govern by decree – without the input from lawmakers – before fresh general elections are held.
The constitutional clause Mr Lasso invoked in order to disband the National Assembly and order early elections to be held is known as "muerte cruzada" (mutual death). It was introduced in 2008 and has never been used in Ecuador before. It is seen as an extreme measure and is expected to trigger protests from opposition groups.
Mr Lasso argued it was necessary "due to a grave political crisis and internal commotion". The conservative president accused the opposition-controlled National Assembly of obstructing reform.
He said it was impossible to "solve the problems of Ecuadorean families… when there is a National Assembly whose political mission it is to destabilise democracy". But opposition groups said it was the president who was undermining democracy by invoking the "muerte cruzada".
Ecuador's influential confederation of indigenous groups, Conaie, has called the move "dictatorial" and convened a meeting for later on Wednesday. Mass protests organised by Conaie, including the blockade of key highways, have paralysed parts of the country before.
The opposition Social Christian Party has also questioned whether the dissolution of the National Assembly is constitutional. Its leader said he would ask Ecuador's constitutional court to suspend Mr Lasso's decree.
But Ecuador's military and police have backed the president, describing the move as constitutional.
The head of the armed forces, Nelson Proaño, also sent a message to anyone planning violent protests, warning that "the country won't accept any attempt to alter the constitutional order through violence".
Mr Lasso's announcement came just hours after the start of his impeachment trial, in which he stood accused of having been aware of an alleged embezzlement scheme involving a state-run oil transport company
On Tuesday, he had offered an impassioned defence, denouncing the allegations against him as politically motivated.
He told members of the National Assembly that his accusers, which hail from opposition parties, lacked evidence.
The president also said that the alleged embezzlement had occurred before he came into office. The trial was due to continue on Wednesday and a final impeachment vote had been expected within days.
A two-thirds majority – 92 lawmakers out of a total of 137 – would have been needed to unseat the president.
Analysts said that the fact that 88 lawmakers had previously voted in favour of the impeachment trial going ahead meant that the president was at considerable risk of being ousted.
Rather than wait for the vote which looked likely to go against him, the president chose what some have called "the nuclear option" of disbanding parliament.
Speaking after he had issued the decree, he insisted that the move would empower Ecuadoreans by bringing elections forward: "It is a democratic decision not only because it is constitutional but because it returns to the Ecuadorean people the possibility to decide."