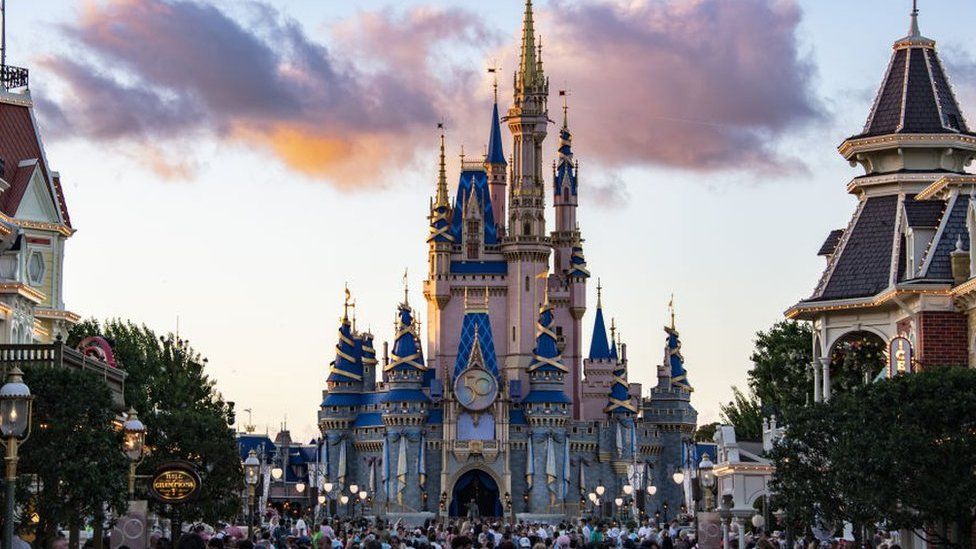 The Walt Disney Company has scrapped a plan to invest nearly $1bn to build a new corporate campus in Florida, it announced.
The reversal comes amid an escalating feud between the entertainment giant and the state's Republican-led government headed by Ron DeSantis. The plan would have seen about 2,000 employees relocate to a Disney-owned complex at Lake Nona, near Orlando.
Mr DeSantis' office has called the announcement "unsurprising". The cancellation was announced in an internal email to employees on Thursday. The email said the company's decision was the result of "considerable changes" that have taken place since it was first announced.
In the email, Josh D'Amaro, the head of Disney's theme park division, also referred to "changing business conditions". While the email does not mention politics or Mr DeSantis, it has been interpreted as alluding to mounting tensions between Disney and Florida lawmakers.
"Disney announced the possibility of a Lake Nona campus nearly two years ago. Nothing ever came of the project, and the state was unsure whether it would come to fruition," Mr DeSantis' office said in a statement.
"Given the company's financial straits, falling market cap and declining stock price, it is unsurprising that they would restructure their business operations and cancel unsuccessful ventures."
The internal Disney email noted that the decision to scrap the project comes after "new leadership" at the company, referring to ex-CEO Bob Chapek, whose sudden departure in November shocked Hollywood.
The Lake Nona campus, which had not been built, would have been a new home for employees at the firm's secretive theme park research and development arm, known as Imagineers, who were asked to move from California to Florida.
Mr D'Amaro's email said relocation would no longer be required and it would discuss next steps with those he said had already done so.
Many of the jobs that were supposed to relocate to Florida were higher paid, white collar and tech-focused positions.
The Orlando Business Journal reported the project was valued at about $867m and that the average annual wage for the positions was $120,000.
Bob Iger, the former chief executive who made a stunning return to replace his successor, Mr Chapek, has announced sweeping changes to boost the firm's business, which has come under pressure as the traditional movie and television industries decline. Disney launched a streaming offering, Disney+, in 2019, but it remains loss making.
Unlike other media companies, Disney has been shielded by the popularity of its theme parks, which have kept the firm profitable. But the value of its share price has halved since peaking in March 2021, as investors predict a tough road ahead.
Earlier this year, Mr Iger announced a plan to save $5.5bn, involving a sweeping reorganisation of the company's operations and roughly 7,000 job losses.  Among the cuts, announced separately on Thursday, was the closure of a 100-room Star Wars-themed immersive hotel experience at one of its Florida theme parks.
The relationship between Disney and Florida – where it employs more than 70,000 staff – began deteriorating last year after Mr DeSantis condemned the company for opposing a state law banning discussion of sexual orientation or gender identity in public schools.
In April, Florida also moved to take control of the Reedy Creek Improvement District – covering the 25,000-acre area known as Walt Disney World – a self-governing zone, with utilities and a fire department. State lawmakers voted to give Mr DeSantis the power to appoint members to the district's governing board, removing that authority from landowners, of which Disney was by far the biggest. 
The move prompted a lawsuit from Disney, accusing state officials of conducting "a relentless campaign to weaponise government power against Disney in retaliation for expressing a political viewpoint unpopular with certain state officials". Days later, Florida filed a countersuit against Disney.
Disney's parks in Florida have long been one of its most-popular attractions, bringing in about 50 million visitors each year.
In a call with investors a week ago, Mr Iger questioned Florida's interest in having Disney grow in the state.
"Does the state want us to invest more, employ more people and pay more taxes, or not?" Mr Iger asked.