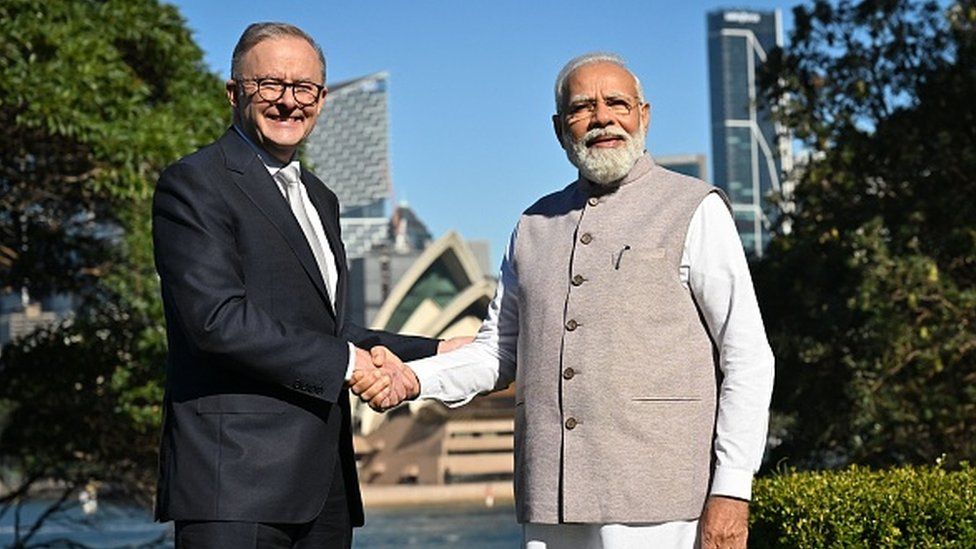 India and Australia have announced a new migration deal as they aim to strengthen their economic cooperation.
The announcement came after Indian Prime Minister Narendra Modi met his counterpart Anthony Albanese in Sydney on Wednesday.
The deal aims to "promote the two-way mobility of students, graduates, academic researchers and business people". They also discussed regional security amid rising tensions in the region.
India and Australia are part of the four-member Quad group, which also includes Japan and the US.
A scheduled meeting of the group in Sydney was cancelled last week after US President Joe Biden had to return to Washington for debt ceiling talks.
Mr Modi, however, continued his planned visit to Sydney after attending the G7 summit in Japan.
This is Mr Modi's first visit to Australia since 2014, and comes two months after Mr Albanese visited India in March.
Australia already has a significant number of people who have migrated from India – census data shows that of more than a million people who moved to Australia since 2016, almost a quarter were from India.
On Tuesday, the Indian prime minister said the two countries had discussed increasing cooperation on mining and critical minerals and had made progress in establishing an Australia-India Green Hydrogen Taskforce.
India and Australia are also working towards a comprehensive economic cooperation deal for which negotiations began more than a decade ago.
On Tuesday, thousands of people from the country's Indian diaspora turned up at one of Sydney's biggest indoor stadiums, where Mr Modi was speaking at a rally.
"The last time I saw someone on this stage was Bruce Springsteen and he did not get the welcome that Prime Minister Modi has got," Mr Albanese said at the event.
Mr Modi called the Indian community in Australia "a living bridge" between the two countries.
"The relationship between India and Australia is based on mutual trust and respect," he said.