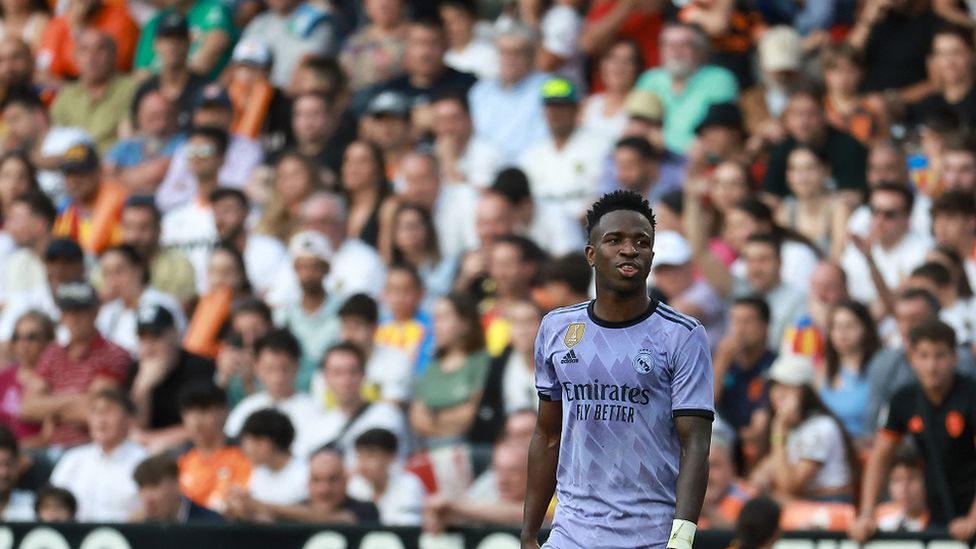 Insults aimed at Real Madrid soccer player Vinicius Jr have triggered a fierce debate about racism in sport and whether Spanish society has a problem with the issue.
Spanish police have arrested three people in connection with racist abuse directed at Vinicius Jr, who confronted fans of Valencia football club in the Mestalla stadium who he accused of directing monkey chants at him. After the match, the Brazilian international said the Spanish football league "belongs to racists".
In the wake of the incident, the president of Brazil, Luiz Inácio Lula da Silva, warned against allowing "fascism and racism" to dominate football stadiums and his government issued a statement saying it "deeply regrets" the lack of action by Spanish authorities to fight the problem.
As the lights illuminating the statue of Christ the Redeemer in Rio de Janeiro were dimmed as a show of solidarity with the player on Monday, the issue has transcended the borders of Spain and of sport.
Spain's left-wing government and its sports institutions have been unanimous in condemning racism in football. However, claims that Sunday's incident reflected a broader malaise have proved to be more contentious.
"La Liga has a problem," Real Madrid's Italian coach, Carlo Ancelotti, told an interviewer after the game. Vinicius Jr went further, saying that "in Brazil, Spain is known as a country of racists".
The president of La Liga, Javier Tebas, rejected such claims. He tweeted in Spanish, Portuguese and English: "Neither Spain nor La Liga are racist, it is unfair to say this."
He also said that La Liga has denounced nine cases of racist insults so far this season, eight of them against the Brazilian.
Others have taken a similar line, suggesting that Valencia, or even Spain, is also a victim because of the reputational damage this episode has caused.
While describing racism and sport as "incompatible", the leader of the opposition Popular Party (PP), Alberto Núñez Feijóo, warned that the controversy was giving "a distorted image of a city like Valencia".
"Spain is in no way a racist country," he said, speaking on the campaign trail ahead of Sunday's local elections.
The Socialist president of the Valencia region, Ximo Puig, insisted that Valencia fans "are not at all racist", while attributing the extremist attitudes of a few to the far right, which is the third-largest presence in Spain's parliament in the form of the Vox party.
But Mr Puig also seemed to apportion some blame to Vinicius Jr, who on leaving the pitch on Sunday had appeared to taunt Valencia fans about the possibility their team might be relegated. "Players need to be good professionals and they shouldn't behave in an arrogant way," he said.
Others have also drawn Vinicius Jr's character into the debate. Toni Freixa, a former member of the board of Barcelona football club, said that the Brazilian "provokes during every game" and wondered why Real Madrid's other black players were not targeted with racist abuse in the same way.
The writer and social commentator Manuel Jabois took issue with such analysis, warning that blaming the victim of the abuse was part of the problem.
"Because he's black… he doesn't have the right to behave badly, to get angry or respond to a provocation without getting called a monkey," he said.
The fallout from Sunday's game echoes events in 2004, when many Spain fans in Real Madrid's Bernabéu stadium aimed monkey chants at England's black players during a friendly game. The ensuing international outrage triggered a national debate about the racism which had long been present on Spain's football terraces.
In an editorial, El País newspaper underlined the fact that it had been necessary for a foreign leader, Lula, to denounce the issue in order for it to be discussed in depth.
It also called for both La Liga and the Spanish Football Federation to take tougher action to stamp out racism in the sport. "La Liga has a problem and that problem is not Vinicius," it read.