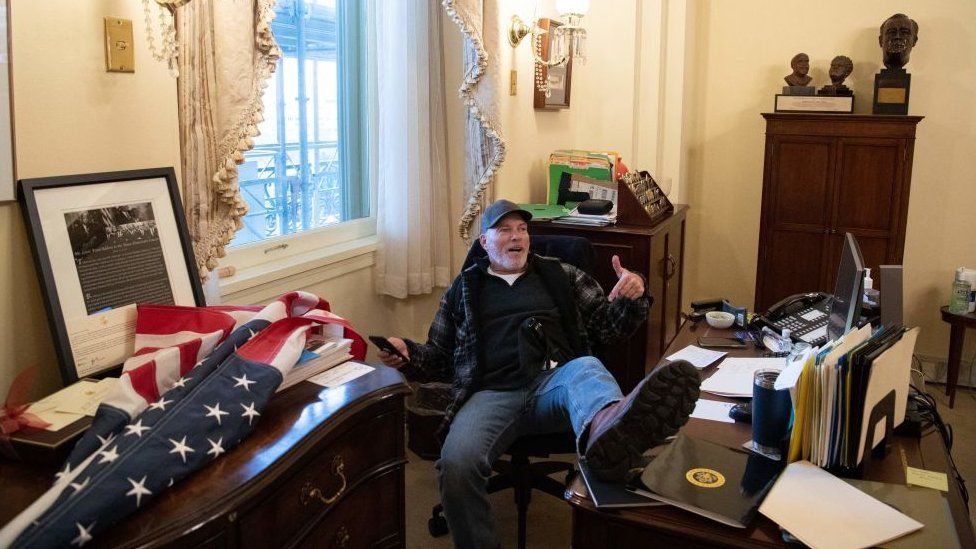 A Capitol Hill rioter who put his feet on Democrat Nancy Pelosi's desk in her congressional office has been sentenced to four-and-a-half years in prison.
Richard "Bigo" Barnett was among the crowd of Donald Trump supporters who stormed the building in a bid to overturn the 2020 election result.
He posed for cameras after breaking into Mrs Pelosi's office and boasted of swiping an envelope before leaving.
He was armed with a stun gun and could have harmed Mrs Pelosi, officials say.
His crimes include obstruction of an official proceeding, entering and remaining in a restricted building or grounds with a deadly weapon, and theft of government property.
He was found guilty on eight charges in January after jurors deliberated for less than three hours.
On Wednesday, he was handed a 54-month prison term by a federal judge in Washington DC.
Prosecutors argued that Barnett, 63, came to DC in January 2021 from his home in Arkansas – over 1,000 miles away (1,600km) – prepared for violence.
The retired firefighter and bull rider carried an American flag during the breach, but was not accused of committing any acts of violence.
Prosecutors had asked for a sentence of at least seven years. Barnett's lawyers asked for one year.
Mrs Pelosi, who was speaker of the House of Representatives at the time, was forced to flee the chamber floor with other lawmakers as protesters stormed the building in an effort to block the certification of Joe Biden as president.
Barnett wrote a note on Mrs Pelosi's desk using a sexist slur, and used a bullhorn to brag to the crowd that "I took Nancy Pelosi's office" after police forced him out of the building.
The Barnett trial has been one of the most high-profile to stem from the 6 January 2021 attack on Congress. More than 1,000 people have been arrested on charges related to the breach in nearly all 50 states.
Like other 6 January defendants, Barnett's lawyers argued that the DC jury was biased against him. On Tuesday – the eve of sentencing – US District Judge Christopher R Cooper denied his team's request for a new trial.