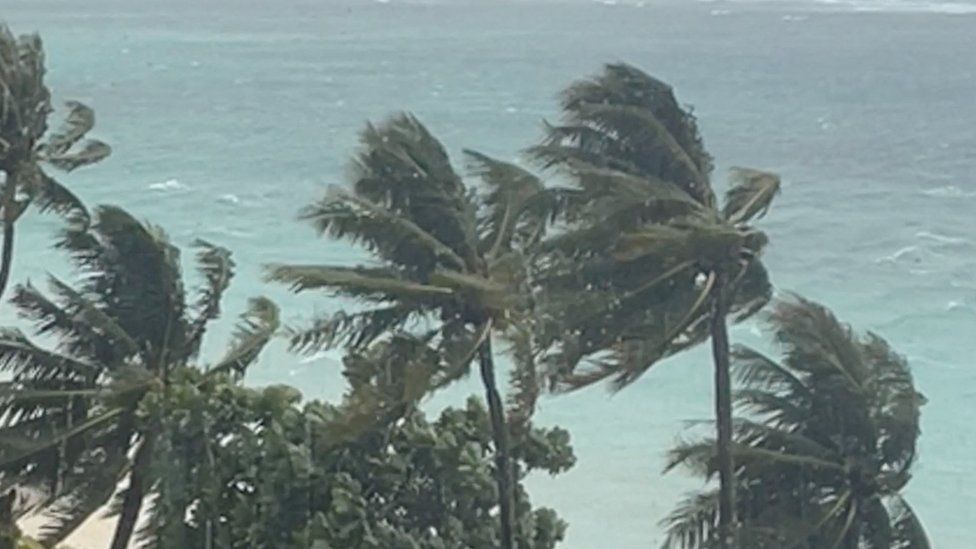 Super Typhoon Mawar has battered the US territory of Guam, bringing damaging winds and rain and knocking out power for most of the island.
The eye of the category four storm passed over the northern part of Guam on Wednesday evening, bringing 145mph (230km/h) winds. It is one of the strongest typhoons to hit the US territory in years.
"It is going to be scary," a meteorologist with the National Weather Service (NWS) in Guam said. "There is no electricity," the forecaster told a news briefing.
As of Wednesday afternoon local time, only 1,000 out of 52,000 customers on the island had power, Guam Power Authority said.
The utility said it would work to restore electricity as soon as winds decreased to safe levels.
There have been no reports of injuries or deaths so far. But the storm, which was heading north-west at 8mph, could bring a life-threatening storm surge and as much as 20in (50cm) of rain to the island of 170,000 people.
The NWS says Mawar could continue to strengthen before dying down on Thursday.
The agency has warned electricity and water may be unavailable for days and "perhaps weeks" until after the storm passes.
President Joe Biden declared an emergency on Tuesday in anticipation of the super typhoon to mobilise federal agencies to help with relief. The US Federal Emergency Management Agency is co-ordinating a response to the storm, it said on Twitter.
The US military has several facilities on the island. The US Navy said on Wednesday that all military aircraft had either left the island or were placed in protective spaces.
Guam – located in the West Pacific Ocean – is prone to tropical cyclones. But Mawar could be the most powerful typhoon to hit the island since 2002, when Pongsona wreaked over $700m in damage.
It's not yet clear what impact climate change is having on the frequency of storms, but scientists say increased sea surface temperatures warm the air above and make more energy available to drive hurricanes, cyclones and typhoons. As a result, they are likely to be more intense with more extreme rainfall.