One firefighter has died and two are seriously hurt after a massive blaze at a historic factory in St Petersburg.
The fire started at about 12:30 local time (09:30 GMT) on Monday, and quickly spread to all six floors of the Nevskaya Manufaktura building. Strong winds hampered efforts to put out the flames, with a huge plume of black smoke visible across the city.
The building dates back to 1841, when it was used to manufacture fabric, and is an iconic landmark in St Petersburg. Forty people were evacuated and much of the roof and floor deck had collapsed, the Russian Emergencies Ministry said.
Three hundred firefighters were involved in putting out the blaze, it added. The Nevskaya Manufaktura sits on the bank of the Neva River, which runs through St Petersburg, Russia's second largest city. It was run by the government during the Soviet period, then privatized in 1992.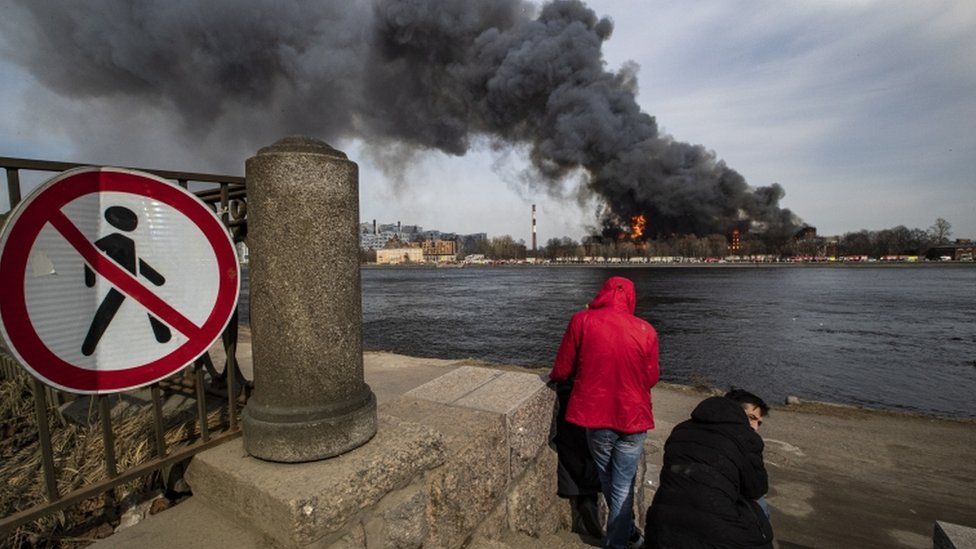 Parts of the building were still being used to manufacture fabric in recent years, while other areas were rented out as office space or abandoned, according to AFP. In 2001 the factory was added to St Petersburg's list of historic and culturally valuable sites. The cause of the fire is unknown, and an investigation has been launched.