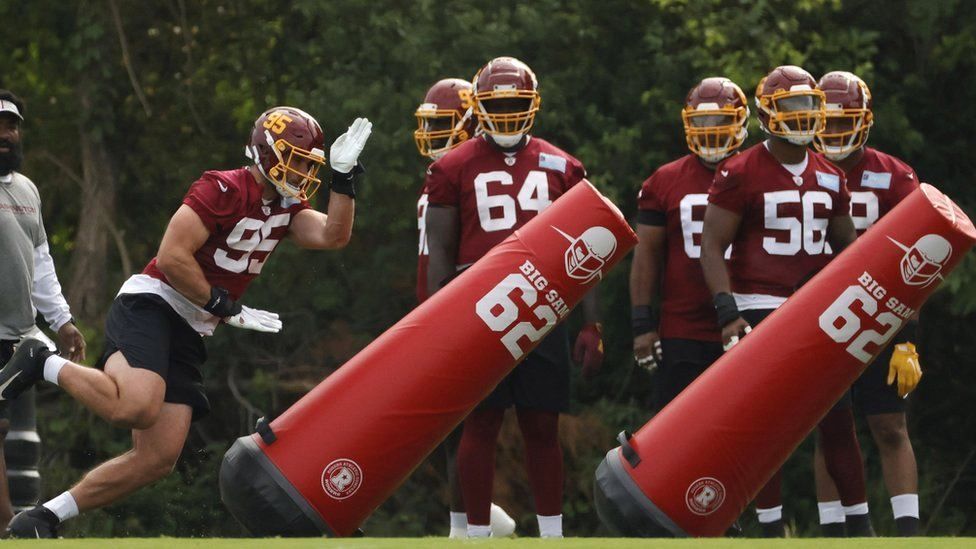 The Washington Football Team, which dropped the controversial name Redskins last year, has now banned fans from wearing Native American headdresses and face paint at its home stadium.
The new policy was among several the US NFL team said would help provide the "best possible fan experience for all".
The Redskins name and logo was retired by the franchise in July last year.
It followed years of pressure from groups and sponsors who criticised the name as offensive to Native Americans.
On Wednesday, the Washington DC-based American football team said it was updating policies for its FedExField stadium in Maryland for the new season.
It said it was "excited to welcome everyone back wearing their burgundy and gold", but that Native American costumes and paint "may no longer be worn into the stadium".
The announcement also addressed the Covid-19 pandemic, with new rules on mask wearing and cashless payments.
Washington's NFL franchise was first named the Redskins in 1933, when they still played in Boston. It became one of the most famous names in American sports, with a logo recognised the world over.
The club has said a new team nickname will be announced next year.
Many US sports teams were named after indigenous people, adopting logos and mascots to match, but in recent years there has been increased sensitivity to those thought to be crude or stereotypical.
Last month, the Cleveland Indians baseball team dropped their controversial name for one aimed at being more inclusive: the Guardians.