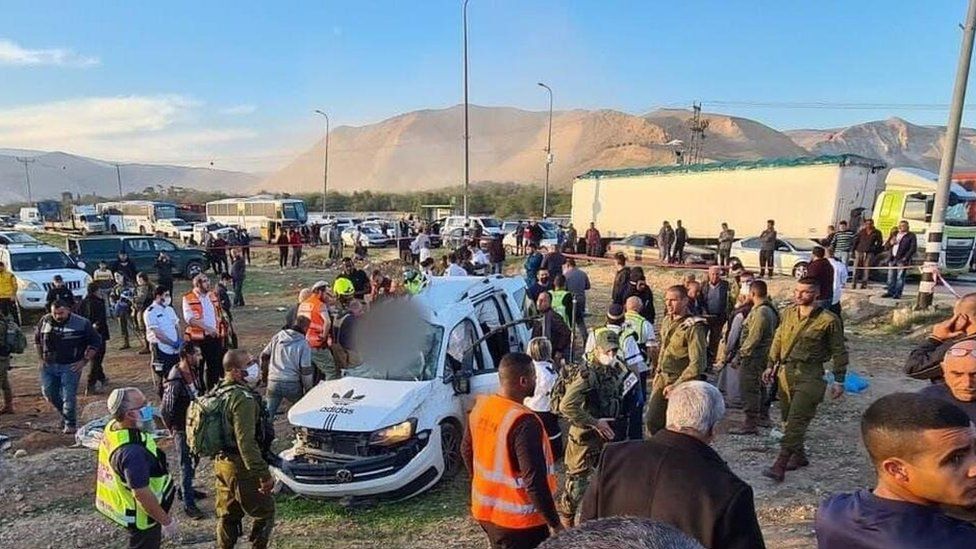 At least seven Palestinians have been killed and three others badly injured in a crash between a truck and a minibus in the occupied West Bank.
The collision happened on the northern stretch of Route 90 in the Jordan Valley on Thursday afternoon.
Both vehicles belonged to Palestinians, Israeli medics say. It is not clear what caused the crash.
At least two people were trapped inside the minivan as rescue efforts got under way, local media reported.
Medical and military helicopters were sent to help evacuate casualties.
"When I arrived at the scene I saw a lot of commotion, some of the minibus passengers were lying on the road with no signs of life, firefighters worked at the scene to rescue other wounded trapped inside the vehicle," Mila Liani, from the Zaka volunteer emergency response service, told the Jerusalem Post newspaper.
According to the Times of Israel, the crash, near the Jewish settlement of Petzael, took place in an area where winding roads are known to be hazardous. It says Israeli activists have for years been calling for safety improvements to Route 90, a major road which runs the entire length of Israel and the West Bank.