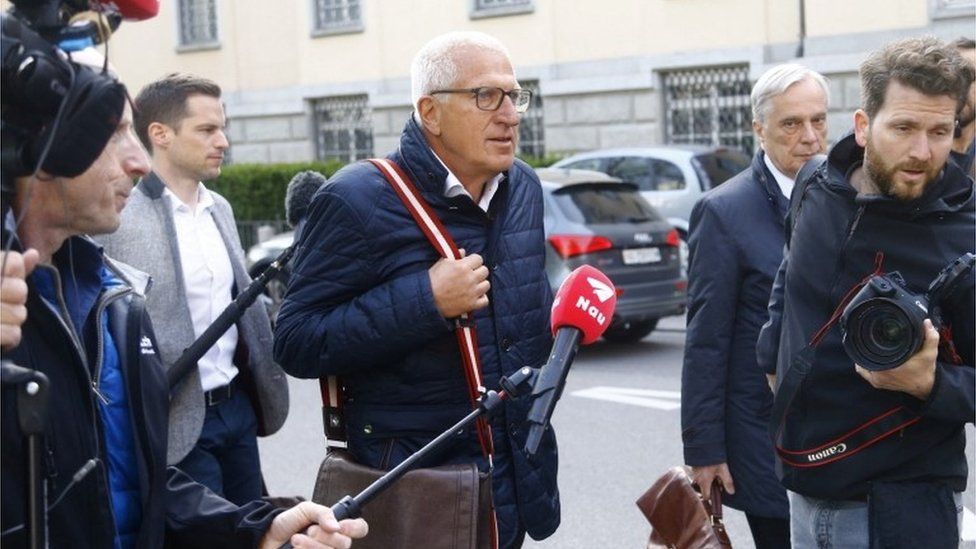 The former head of a Swiss bank has been sentenced to nearly four years in jail for charges including fraud.
The court in Zurich heard that Pierin Vincenz, 65, had used his company credit card to pay for strip clubs, Tinder dates, holidays and dinners.
Public interest in the case was such that the trial was moved from a Zurich courthouse to a concert hall.
Vincenz, who was chief executive of Raiffeisen Bank, and his co-defendant, will appeal against the verdict.
According to prosecutors, Vincenz and a former credit card company boss Beat Stocker, had lined their pockets by taking over companies in which they had secretly accumulated stakes.
Stocker was jailed for four years, and Vincenz – once crowned banker of the year in Switzerland was sentenced to 3 years and nine months.
The judge found that Vincenz's many visits to strip clubs were not in the bank's interest, according to Swiss media.
Bills totalling nearly 200,000 Swiss francs ($214,000; £165,000) for strip club visits were put on company expenses as largely business-related, Reuters reports.
A meal costing 700 francs with a woman he met on Tinder was reportedly described as a "job interview".
The high-profile case has damaged Raiffeisen – once a modest co-operative bank with 200 branches serving local communities. Now, she says, for many Swiss it's become a byword for sleaze and a very cavalier approach to money.